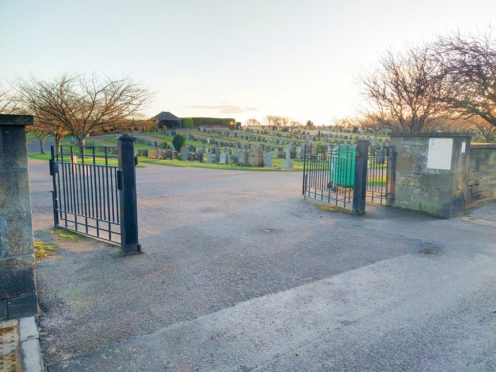 Safety concerns have led to cars being blocked from using gates leading into a Moray cemetery.
The Linkwood Road entrance to the Elgin burial ground will be permanently closed from today following a health and safety inspection.
Fears have been raised by staff at the cemetery about the safety of vehicles entering and leaving the access road to the cemetery.
Now Moray Council has confirmed the gates will remain locked, with a barrier installed to prevent drivers reversing onto the road from the graveyard.
Health and safety and transportation specialists from the authority visited the cemetery in the south of the town after complaints were also received from motorists.
The follow-up inspection concluded there was a "visibility problem" for cars entering and leaving the burial ground from Linkwood Road.
Gates leading into the graveyard from Oakfield Road will remain open to enable drivers to pass through to visit the graves of loved ones.
Yesterday, Moray Council leader Graham Leadbitter, who also represents the Elgin City South ward the cemetery is in, stressed the safety of drivers and pedestrians must be the priority.
He said: "I'm grateful to our staff for highlighting this concern and pleased to see this proactive action being taken to avoid any accidents.
"It's important that access is available to the cemetery for funerals or visiting the memorials of their loved ones, and vehicle and pedestrian access will be maintained through other existing entrances – while keeping vehicle access as safe as possible."
The area surrounding the Linkwood Road gates can be busy when funerals are taking place within the cemetery, with traffic often restricted to a single lane as services take place.
It is understood signs to prevent cars exiting the cemetery were considered before being ruled out in favour of the permanent closure.
Pedestrian gates at the Linkwood Road entrance will  remain open.