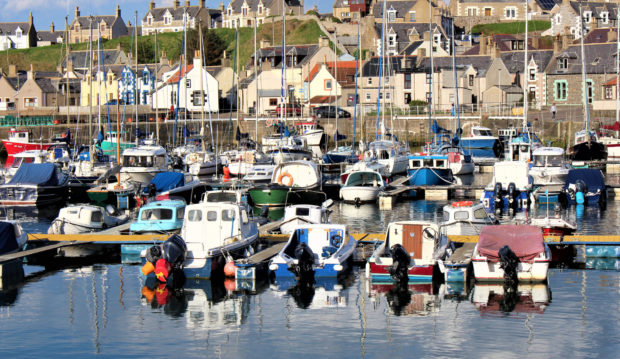 Hopes have been raised that ageing pontoons at a Moray port will soon be replaced as part of a package of investment.
Berths at Findochty Harbour were shut this month after being battered by Storm Ciara – leaving some boat owners stranded from their vessels.
Concerns have regularly been raised about the condition of the village port amid dwindling finances to fund repairs.
Now Moray Council has confirmed that pontoons at Findochty could be line to be replaced as part of a package of investment across the authority's six harbours.
The money is part of draft budget proposals due to be debated by councillors next month.
Yesterday Buckie councillor Tim Eagle explained the problems with the ageing pontoons at Findochty had caused "real frustration" in recent years.
He said: "Whilst nothing is confirmed yet there might be good news ahead with the potential that harbour staff can begin the process of buying and fitting new pontoons.
"The only frustration is that it is not as simple as it sounds. First there is a process for licenses which require to be worked through with Marine Scotland and then designs and specs need to be finalised.
"But I am hopeful that harbour users will take some comfort that, assuming this is agreed by councillors, the old pontoons will be away and new fresh pontoons put in.
Moray MP Douglas Ross added: "There is still a lot to do to secure this funding, but it's a step in the right direction."
Emergency repairs had to be done to pontoons at Findochty Harbour in October last year after bolts holding steps in place had been loosened by crashing waves.
Yesterday Moray Council explained the total amount of money that could be spent is not known yet due to budget papers still being finalised.
A spokeswoman added: "Money has already been provisionally allocated within the draft 2020/21 capital plan for upgrading harbours – this includes the replacement of pontoons at Findochty.
"This is subject to the approval of councillors at the budget meeting on Tuesday, March 3."