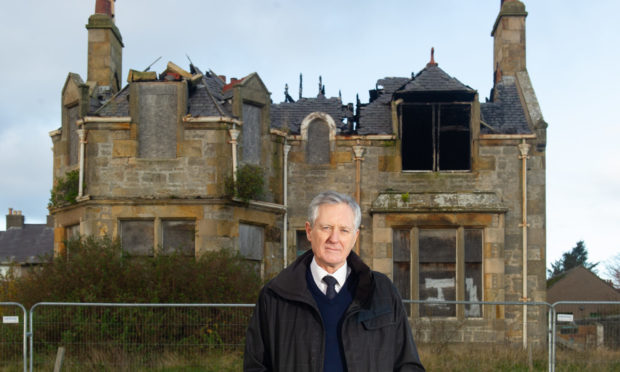 The 25-year saga of a derelict house on a desirable Moray street is one step closer to drawing to a close.
Moray Council is pursuing a compulsory purchase order for Brae Lossie in Lossiemouth after fires and break-ins blighted the building since the 1990s.
Now the Scottish Government has approved the request – triggering a final six-week period for objections to the lodged with the Court of Session to block the process.
An advert published by the council lists Gordon Stewart as the owner of the grand Prospect Terrace home with his last known address being in Pasadena, near Los Angeles in the US.
It is understood that he inherited the building when his parents died in the 1990s, but has not been seen in the town since attending their funerals.
Discussions were held between the council and Mr Stewart and Moray-based lawyers in an attempt to address concerns about the deteriorating condition of the home.
However, at one point it was not known whether he was even still alive with talks across the Atlantic being difficult to maintain.
Yesterday Heldon and Laich councillor John Cowe welcomed progress being made on securing the future of the property.
He said: "When I was elected to the council seven years ago I said I would make this a priority for me. It's taken that length of time to get to this stage, that's a long time.
"It's been very difficult for the neighbours, who have had to live with the fires and everything else for even longer.
"It's been a very challenging process for the council. Contact with the owner has been very sporadic. It's been done through lawyers but I believe they've found it difficult to contact him at times too."
The Prospect Terrace home is on one of Moray's most attractive streets with panoramic views overlooking Lossiemouth's East Beach towards the mouth of the River Spey.
It is not known whether the home, which was previously converted into two flats, will be sold in its current state or whether it will be demolished prior to a sale.
Mr Cowe added: "There's been a lot of interest in it over the years. I imagine demand for it will be high."