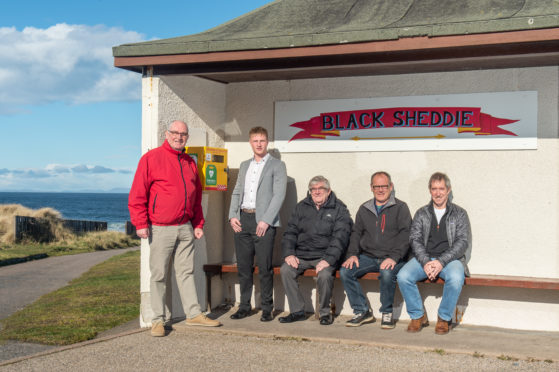 Lifesaving equipment has been installed at a Moray harbour to ensure emergency aid can be provided to sun-seekers during the busy summer months.
The coast near Hopeman is one of the most popular spots to soak in rays during warm weather with children often jumping off the quayside to cool off.
However, concerns had been raised in recent months about providing aid in the event of a medical emergency.
Now campaigners in the village have installed a network of the equipment to ensure members of the public can provide help until medics arrive.
Yesterday Hopeman Community Association unveiled the final location at the Black Sheddie heritage centre near the waterfront, where retired fishermen gather daily to share views on the world.
Chairman Dennis Slater said: "We want that emergency aid to be right there straight away.
"After talking about it we realised that the harbour area and the beach area gets incredibly busy. There's also the caravan right there too which is very popular.
"It's good to have that part of the village covered, although obviously we hope it will never have to be used."
Hopeman Community Association has coordinated the installation of the equipment, which has been funded by local housebuilder Tulloch of Cummingston and fitted by electrician Donald Beattie.
Other locations in the village now to have defibrillators fitted to the outside of the buildings include the golf club, bowling club and GP surgery.
Murray Easton, vice-chairman of the group, said discussions have been held in recent months about where best to install the equipment.
He said: "We've been aware just from stories of things that have happened about how beneficial they can be.
"During the summer there's always a lot of people at the beach with kids jumping in the harbour and people visiting the caravan site so it just seemed like the best.
"We want to provide a bit of education for the kids as well, whether it's about pier jumping or anything else. This defibrillator just provides that bit of support for that area."