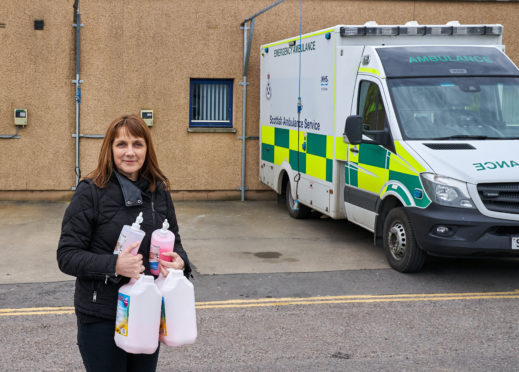 Teaching staff at an Elgin Primary School have stretched out their hand in support to the NHS after paramedics ran out of basic supplies amid the coronavirus pandemic.
Bishopmill Primary School staff gathered up available supplies of soap and hand towels yesterday before handing them in to a grateful paramedic at the town's ambulance station.
Their actions follow an urgent plea by Elgin's Covid 19 support and resilience group for donations after ambulance staff at the Dr Gray's Hospital ran out of basic supplies.
Deputy head teacher Irma Westwood said the school would continue to do their bit to help the community through the difficult times ahead.
She said: "We are all in a difficult situation and we are just trying our best.
"The NHS are struggling to even find things like soap.
"Elgin is quite a small town really so anything we can do to help we absolutely will.
"The school is closed to pupils. Some staff were in this morning just gathering stuff up because we are going to continue to try to teach online.
"At the moment we don't need those paper towels or the soap, and probably won't for the next few months, so it doesn't make sense for it to sit there if the NHS needs it.
The Morriston Road primary is one of hundreds of schools closed across the Highlands as efforts continue to mitigate the spread of the coronavirus.
Mrs Westwood hopes their generosity will encourage others to follow in their footsteps.
She added: "Hopefully this will encourage people who maybe have extra supplies anywhere.
"If they would do the same thing maybe we wouldn't find ourselves in this situation.
"We have all got families and friends who might be in need of the services and staff at Dr Gray's so we would absolutely do anything to help."
Pleas have also been made by members of the group for donations to the town's police station, located at Elgin Railway Station.