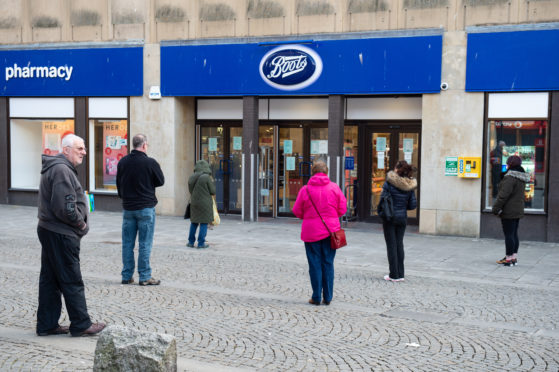 Patients in Moray have been urged not to stockpile medicine following "unprecedented demand" at GP practices and pharmacies.
Queues of more than an hour have been reported as people wait for prescriptions as stores limit the amount of customers allowed inside at one time.
Yesterday, Health and Social Care Moray warned the service was struggling to cope as households requesting repeat prescriptions before they were due.
Forres Health Centre, meanwhile, reported requests for salbutamol inhalers from people who do not have lung conditions like asthma and chronic obstructive pulmonary disease (COPD) or who have not required the medication for several years.
Staff have also experience customers requesting medication while saying it is "just in case".
An appeal has now been issued by the health service for people to ask for prescriptions in the normal cycle and not to stockpile medication.
Pam Dudek, chief officer of Health and Social Care Moray, said: "We understand that people have concerns but requesting repeat prescriptions before they are due is an unnecessary added pressure on practice staff and pharmacies.
"Many pharmacies are experiencing extreme demand, with patients queuing inside and outside and not observing social distancing, which presents a further infection risk for everyone.
"There is no need for this if normal prescription ordering patterns can be restored and we would appeal to people to only use services for their core purpose and when they are genuinely required.
"That will allow us to provide services in a far better way for everyone."
Patients have also been advised to continue taking all prescribed medication unless told by a clinician to stop.