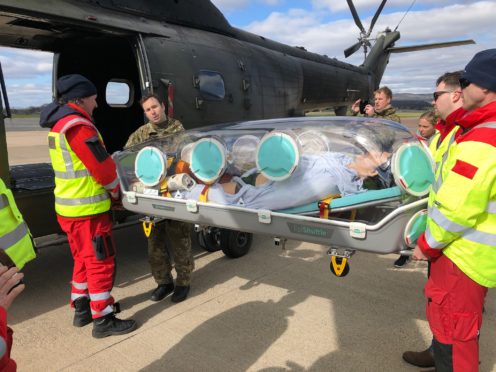 Helicopter crews based in Moray have been trialling the use of an isolation stretcher for medical emergencies involving coronavirus patients.
Three Puma aircraft have been sent to Kinloss Barrack in Moray from Oxfordshire to support the NHS across Scotland.
As part of the operation the crews have been trialling the loading of an EpiShuttle isolation stretcher into the helicopter as well as associated crew and equipment.
Personnel have been working with critical care teams in Aberdeen and Glasgow as well as the ambulance service on the procedures.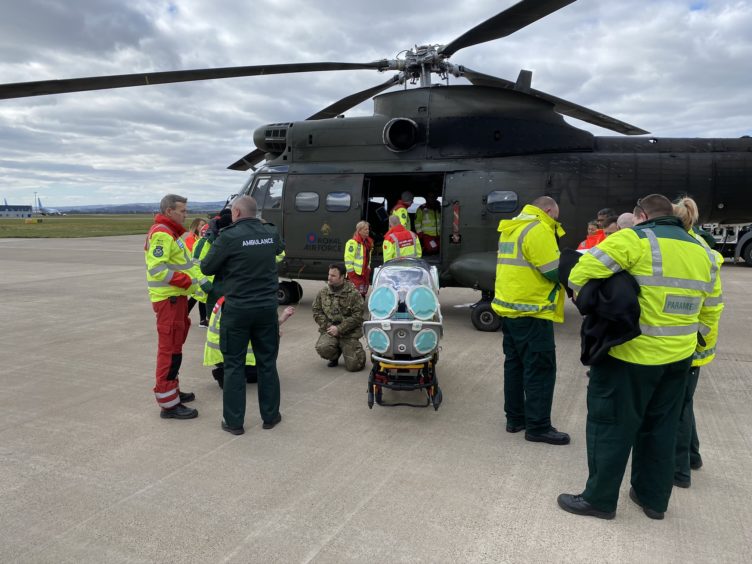 Flight Sergeant Stephen Cassidy, the senior crewman of the Kinloss detachment, said: "Ahead of the training our engineers changed the aircraft to a six-seat fit from the traditional 12-seat fit – a configuration we haven't used before.
"Removing the additional seats allows us to transport the required medical staff to treat the patient and safely accommodate the EpiShuttle and associated medical equipment.
"It's similar in size to the Nato stretcher that we've transported on numerous operations but it's much easier to load and secure because of the fixed wheels when taken off the gurney."
Pauline Howie, chief executive of the Scottish Ambulance Service, added: "The fight against Covid-19 has required the NHS to think differently and to move at pace.
"By adapting our approach and using this latest available technology, we are taking swift action in the best interests of patients and our hardworking staff – whilst increasing our capacity.
"The introduction of EpiShuttles will increase the range of options available to us as a service as we deal with Covid-19 cases, particularly for rural and island communities."