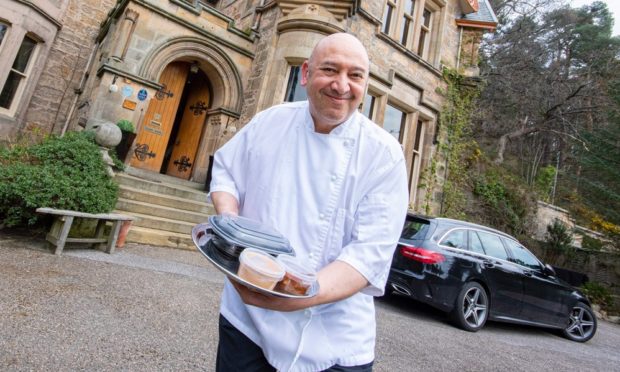 An award-winning restaurant in Moray has created a new signature menu to give customers a novel dining experience at home.
Cluny Bank in Forres is one of hundreds of premises across the north forced to close its doors to customers as efforts to minimise the spread of the virus continues.
With no income and no signs of doors opening, the award winning St Leonard's Road restaurant was forced to adjust their business plan.
Owners Julia and Lloyd Kenny have now joined forces with local supplier Jock Gibson from Macbeth's Butchers to create a new fine dining menu to help meet the growing demand for home deliveries.
Franklin's Fine Dine-In will see an array of fine dining classics posted to customers across the region, giving them "the taste and provenance of the finest local food."
However, Mrs Kenny admits her husband, the chef at the Moray restaurant, needed some convincing to box up his culinary creations.
She explained: "We had toyed with the idea of doing things like the salmon and the brandy and date pudding before, during our quieter months to try and boost income but never got round to it, mainly due to hurdles we would have to jump. We didn't want to go down the takeaway route as it would have been hard to maintain the quality food and there were quite a few places doing this.
"Collaborating with Macbeth's has solved both these problems."
MacBeth's already have a well-established mail-order business, which has seen a ten-fold increase in orders since the lockdown.
Mrs Kenny – who manages the day-to-day operations and front of house, spoke of the new menu.
She said: "The salmon, parfait, soups and the desserts are all exactly as they would be in the restaurant. However, we have had to come up with some different main meals from those we would normally do because some of the food we serve in the restaurant isn't suitable for delivery.
"The meals are available as single portions so they will appeal to everyone – people struggling to get out, people wanting a wee treat and maybe people that have wanted to try Lloyd's food but haven't been able to in the past."
Jock Gibson from Macbeth's hope's the scheme will secure a prosperous future for local businesses.
He said: "By doing what we can to support our customers when this is over they will be in a securer position than they would otherwise which will also benefit us. Hopefully, the trend for home delivery both locally and nationally will continue after this is over with customers continuing to support small and local businesses."