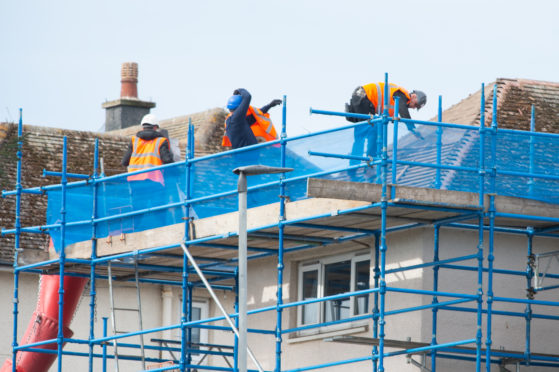 Military contractors have been accused of potentially "importing" coronavirus to the north-east.
Dozens of workers have travelled from across the country to do work for the Ministry of Defence at RAF Lossiemouth as well as on nearby housing estates.
Yesterday crews could be seen on scaffolding surrounding military homes in the town's South Covesea Terrace while doing maintenance work on roofs.
Moray MSP Richard Lochhead has called on the MoD to reconsider what it considers to be "essential" projects during the lockdown.
It is understood that hotels in Lossiemouth are being used to provide accommodation to the workers.
Mr Lochhead said: "The community is in lockdown and with clear guidance that all non-essential work and non-essential travel should be stopped to try to reduce the spread of the virus.
"I spoke to the station commander a couple of weeks ago and was led to believe that the construction workers were being provided with accommodation on the base to take into account of the community's concerns.
"While hotels are allowed to provide accommodation for key workers, the question right now is whether these jobs are indeed essential.
"It would be ridiculous to hide behind the claim that scheduled works to homes outside the base are somehow exempt from the 'stay at home' message because of national security."
Resurfacing work on the base's runways is continuing inside the wire ahead of the arrival of the P-8 Poseidon fleet later this year.
Elsewhere in the town, work on the £42million replacement for Lossiemouth High School has temporarily ceased.
Mike Mulholland, chairman of Lossiemouth Community Council, believes almost all of the work being done by military contractors in the town could be postponed – arguing it could make the difference between a local virus outbreak starting or not.
He said: "This isn't just one or two people coming in, we're talking about maybe 30 or 40 at a time.
"We don't know what the virus situation is where they come from, they may be importing it here with them.
"I've heard of the police here speaking to people with caravans about what they are doing here.
"Why do the MoD think they're any different, especially when the government are a part of are telling us every day to 'stay at home'?"
Scottish Government guidance on construction has listed defence as a "critical national infrastructure" exempt from other rules.
However, the advice also stresses that organisations must also judge individual projects and keep open only what is "imperative".
An MoD spokesman said: "The MoD is committed to ensuring the safety of service families and staff whilst completing essential work on our estate, the concerns raised about the work at Lossiemouth are being investigated."