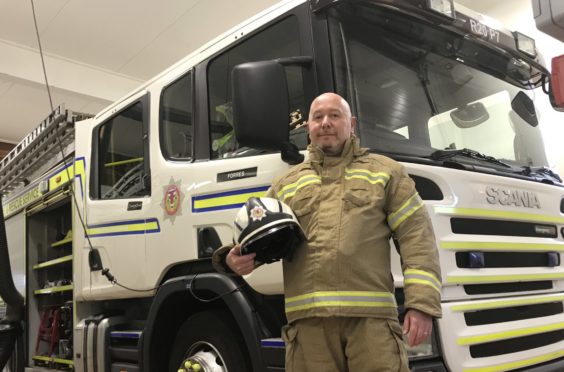 The end of April was meant to mark the beginning of a new life in Spain Paul Taylor and his wife Angela.
The couple were readying themselves to start a new life in the bright sunshine of Alicante.
But Mr Taylor, a fire commander based in Forres, put his retirement on hold to stay on the frontline with his colleagues to help keep people safe amid the pandemic.
Mr Taylor said the bonds of friendship meant he couldn't do anything other than stand shoulder-to-shoulder with his colleagues during the strangest and most challenging of times.
He said: "We are disappointed but we are not the only ones. No one can go and follow their dreams at this time.
"I retired from the service after 35 years and should have been going out to Spain but I can't leave the station short staffed.
"It is not right when some of the guys are out working as posties as well. They are my friends."
The main change in the job for Mr Taylor has been the pressure of ensuring social distancing when tackling serious and complicated fires like a recent one in Kinloss.
He said: "It is more stressful than usual because of the extra pressures it puts on me as the officer in charge.
"We have to go through such different procedures like social distancing and casualty caring.
"My biggest headache was the large fire in Kinloss.
"While we were on top of the fire itself, maintaining social distancing between all the firefighters, paramedics and police involved was difficult."
He said another big change had been the adoption of PPE masks and gloves but added that their use had already become "second nature".
Mr Taylor has hailed fellow firefighters for going the "extra mile" during the coronavirus pandemic.
"These are strange times but everyone has pulled together," he said.
"Four of my lads are posties as well so they are feeling the strain a little bit more than some are because they have to go out to work in mornings and still be available for fire calls as well.
"The pandemic has added pressure but everyone is displaying such flexibility and our management have been really supportive.
"The infrastructure is there to keep us safe and we can't fault the leadership in all that they are doing," he said.
He described the warm appreciation shown to the fire service from within the Forres community as a "really humbling".