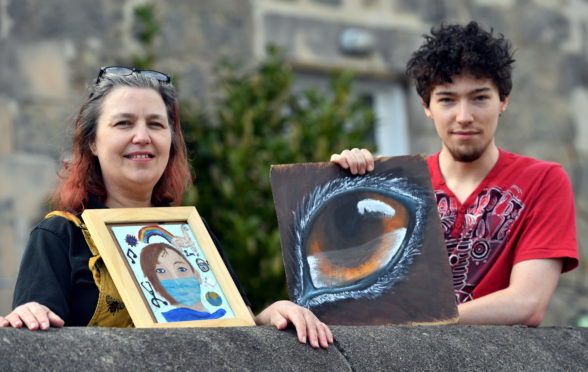 A woman is inviting people from across Moray to showcase the art created during the ongoing coronavirus lockdown on her website.
Stephanie Walby from Rothes created The Moray Lockdown Art in order to help artists, young and old, and hopes it will provide a snapshot of historic times.
Miss Walby wants to give people a platform to "show off" their work to a wider audience and hopes the website will also offer art students whose exams, assessments and exhibitions cancelled due to the current crisis to let others see their work.
"It will be lovely to get all sorts of art in the galleries and would be interesting to see what is being created at this historic time," she said.
"With the exams being cancelled my son is doing advanced higher in art and obviously their stuff will not be sent away.
"It is getting marked within the school but an artist likes to show off their work."
Miss Walby, who is herself trying out different types of art during the lockdown, hopes that spare time encourages people to get their creative juices flowing amid the madness.
"I'm sure there will be a lot of people who have picked up a brush for the first time and I have really enjoyed seeing the variety of art that people have sent me.
"It is amazing.
"The additional time I have in lockdown has given me the opportunity to do a lot more art than I usually do.
"I have been dabbling with oil and experimenting with it and watercolours. My most recent piece is already on the website, called 'Corona's First Fortnight'."
Miss Walby wants people of all abilities to be part of the project to highlight the artistic talent across the region.
She also would like the gallery to be something people can look back at after the coronavirus pandemic has ended.
"I would like everyone to get involved with the project, whether it is your first time painting or you have been doing it all your life," she said.
"It would be great to have a gallery of art to look back at once the pandemic is over.
Anyone wishing to display their work on The Moray Lockdown Art website can email stephi.jo283@gmail.com.
Click here to check out the variety of art on display.
Items already featured include photography and paintings.