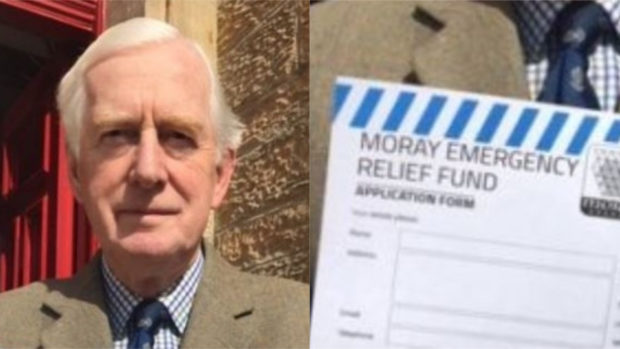 A last-resort fund created to raise money to support Moray residents with nowhere else to turn during the coronavirus pandemic has now raised more than £100,000.
Donations have poured into the Moray Emergency Relief Fund from businesses and individuals since it was established just three weeks ago.
About 100 applications have already been approved to the cash pot with more than £10,000 being awarded to people in need with money transferred to bank accounts within 48 hours.
Moray Lord Lieutenant Major General Seymour Monro, who is one of the trustees, praised the "phenomenal generosity" of residents for contributing to the relief fund.
He added: "About a third of the applications we have received are for help buying laptops and tablets.
"It's been a problem where families who don't particularly have a lot of money are struggling for equipment for home schooling – the council has now started loaning the equipment out instead because we've been getting so many inquiries.
"We're hugely grateful for all the donations, they are making a big difference to the lives of local people."
Maj Gen Monro explained only three applications had been rejected to date due to their circumstances qualifying them for support from elsewhere.
The fund was established by Maj Gen Monro with the Banffshire Lord Lieutenant Andrew Simpson.
Trustees include Moray Council's chief executive and convener as well as two vice lord lieutenants, prominent local businessmen Sandy Adam, Charles Milne, Jim Walker and Bill Robertson with former Banffshire Lord Lieutenant Clare Russell as patron and local politicians Douglas Ross and Richard Lochhead as vice-patrons.
Information about how to donate to the Moray Emergency Relief Fund and where to apply is available on the Moray Council website.