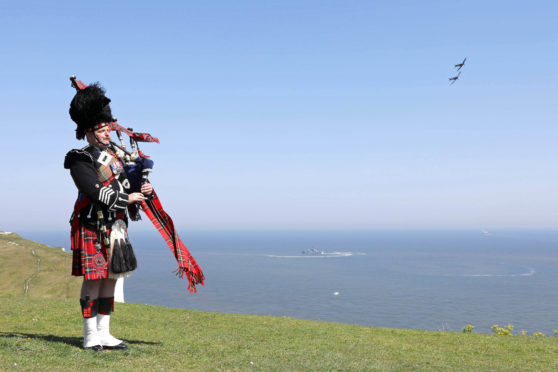 A Moray Pipe Major was given the honour of being the lone piper in the official commemoration to mark the 75th anniversary of VE Day.
Pipe Major Andy Reid, 35, from Buckie, serves with the 1st Battalion Scots Guards.
He stood, in full uniform on the white cliffs of Dover while two Spitfires thundered overhead, their Rolls Royce Merlin engines temporarily drowning out the skirl of the pipes.
It was part of a unique photoshoot involving the Royal Navy and its HMS Severn, the British Army through Pipe Major Reid and two Spitfires belonging to the Royal Air Force's Battle of Britain Memorial Flight.
They were piloted by currently serving RAF officers Squadron Leader Mark Discombe and Flight Lieutenant Andy Preece.
The footage pays homage to those who suffered and paid sacrifices during the Second World War.
Mr Reid followed his father's footsteps in joining the Army in 2001.
His father had played saxophone and clarinet as an army musician in the regimental band of the Gordon Highlanders.
Although born in Germany, where his dad served, Mr Reid returned to Buckie where he grew up and went to school at Buckie Community High School.
Pipe Major Reid said that it was "crucial" the country remembers the occasion, especially while in a time of crisis.
He said: "I along with the other guys back in camp are on standby to deploy as part of the Military's Covid Support Force, but on the day, if I'm not tasked, I'll be playing outside the Battalion Headquarters back in Mons Barracks, Aldershot.
"Ordinarily we'd be moving into our busiest time of the ceremonial year with big events like the Trooping of the Colour, but of course this year it's all had to be cancelled, probably for the first time since the end of the Second World War!"
He added about being part of the event: "I've only ever been to Dover before to catch ferries so this was quite special.
"It's great to be able to represent my regiment and play my part in the national commemoration of such an important event."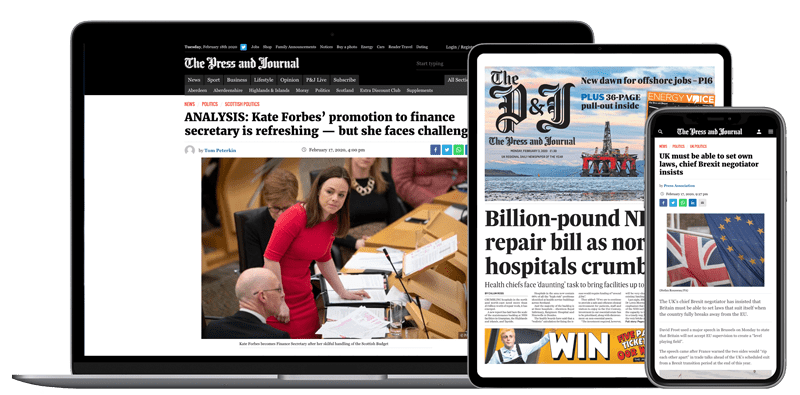 Help support quality local journalism … become a digital subscriber to The Press and Journal
For as little as £5.99 a month you can access all of our content, including Premium articles.
Subscribe