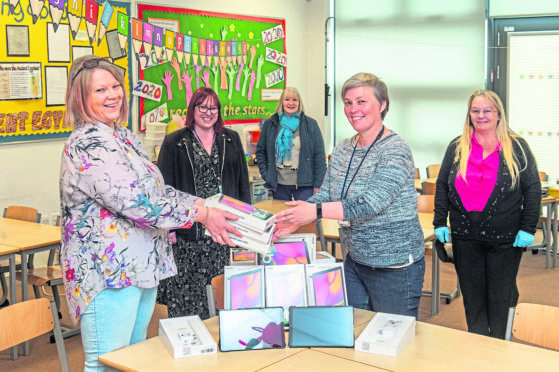 Community champions in a Moray town will provide tablet computers to school pupils struggling without technology while lessons are suspended.
The group in Keith has invested in the technology after hearing some youngsters were unable to keep up with learning at home.
The issue of families being unable to access online teaching has been raised regularly across the region during the pandemic.
Yesterday, 15 tablets were delivered to Keith Primary School for teachers to distribute to pupils who are known to have been experiencing problems.
Strathisla community council member, Rhona Patterson, is also a member of the Keith Covid Group that has secured the equipment.
She said: "We've spoken with other groups about the situation to pull together a wider project, because there is a need right across Moray for this.
"Very quickly we realised there would be families struggling so we started the ball rolling elsewhere too.
"Tablets are what we have been told is best for the primary schools, we're working on getting laptops from IT Central in Elgin for Keith Grammar because we've been told their needs are slightly different."
The Keith Covid Group initially bough the equipment from Currys about four weeks ago but turned elsewhere when the firm was unable to fulfil the order worth more than £6,000. Mrs Patterson explained a refund was currently being processed.
Grants of £5,000 from SSE's Beatrice offshore windfarm to both the Keith and Strathisla community councils has covered the purchase.
The firm has also made the same cash available to the Buckie and Lennox groups as part of its coronavirus response, which has already distributed £550,000 nationwide.
Pringle George, treasurer of Lennox Community Council, which covers Fochabers, Portgordon and Spey Bay, said the money was already helping to make a difference to life in the village – but explained some was being kept in reserve.
She said: "There's been a lot of effort going into food parcels and essential supplies, which has really been the primary concern since the lockdown started.
"We're holding the other £2,500 back to the end of July at the earliest until we see what happens locally – people may find themselves redundant and need a helping hand, which we would deal with confidentially.
"We don't know where this will take us yet so it seemed prudent to keep some of the money back a bit."