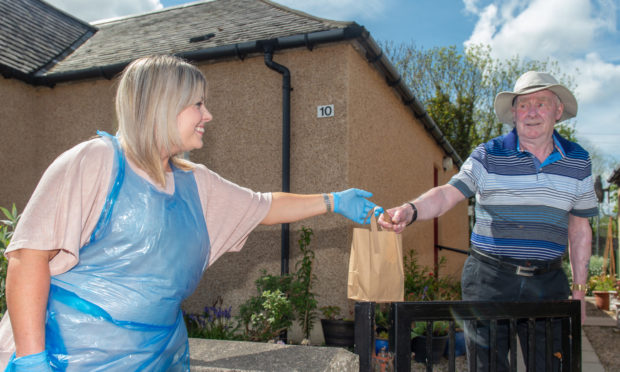 The community spirit of a Moray town has been hailed as "incredible" amidst the coronavirus pandemic.
During the lockdown, people in Cullen have been working tirelessly through many community initiatives helping vulnerable people.
Cullen and Deskford Community Council has teamed up with groups to hand out 150 home school activity packs.
The community council has also been working with Rockpool Cafe and Cullen Bay Hotel in its food strategy project providing vulnerable people with meals.
Rockpool Cafe owners Stephen McDonald and Carrie Anderson have been providing free meals four days a week.
Mrs Anderson said that the project was a great way to bond as a family whilst helping the community.
She said: "My husband does all the cooking while I do the delivering with my eldest son.
"The elderly are so thankful and grateful not only to receive the food but having someone to check in on them each day and have a friendly chat and do anything to help them.
"The support we have had from the Cullen community and local businesses has been really incredible.
"Thanks to everyone who has contributed in anyway to the service."
Volunteers have also been based at the Cullen Community Centre helping prepare vegetables for the food deliveries and to sort Moray Food Plus donations.
Community council member Colin Burch praised residents for their support and said: "So many people have said how happy they are to live in such a community-based area.
"Thanks to everyone who has supported the cause so far including the Three Kings Cullen Association who have allowed us to use the community centre as a base for our activities."
Anyone who needs help should e-mail help@cullenconnected.com or call 07549 040515.