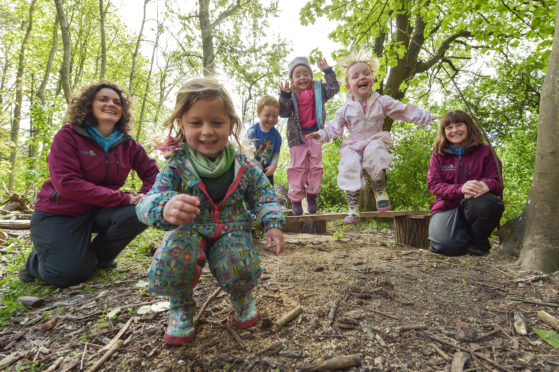 A Moray nursery that specialises in outdoor learning is encouraging mainstream education providers to embrace the natural environment even more to ease classroom concerns.
Investigations are being done across the country to examine how it might be safe to reopen schools following the coronavirus lockdown.
Earthtime, which is based in Duffus near Elgin, ordinarily takes its nursery pupils on woodland walks with bushcraft workshops to teach youngsters about their place in nature while peaking their curiosity in its forest school.
During the lockdown it has been used as a childcare provider for key worker families with about a dozen young explorers attending every day.
Outdoor learning already features in Education Scotland's Curriculum for Excellence blueprint that guides teaching across the country.
Yesterday Gordonstoun said the advice was more relevant now than ever before.
And Natalie Campbell, Earthtime's forest school manager, believes concerns about going back inside to the classroom provides an opportunity to embrace nature further.
She said: "At the moment there are experts talking about ensuring classrooms are well ventilated when they go back – if you're outside you don't have that concern.
"We have children outside about 90% of the time, we try to use the environment to enhance the learning while making it specific to the environment they're in.
"Most schools already have quite large outdoor spaces, if you don't want so many children in the classroom then you can move outside it.
"We go on woodland walks and really let them explore, it helps them learn about their place in nature while encouraging their curiosity."
The Scottish Government published guidance last week encouraging schools to consider new ways for structuring their teaching for when it is safe for pupils to return.
The advice includes developing methods to allow for physical distancing, including during games and activities.
Gordonstoun, which is also based in Duffus, has long run a curriculum that has embraced the outdoors to instill values of "resilience, compassion and responsibility".
The school, which was attended by Prince Charles, has echoed the calls for the sector to examine ways to develop more opportunities to reduce time indoors during the current pandemic.
A spokeswoman said: "We are fortunate to have a large countryside campus at our disposal but we would encourage any school to make greater use of outdoor space as a way to keep students healthy, safe and fulfilled at any time, but now more than ever."
First Minister Nicola Sturgeon has said that pupils will not be returning to classes on a full-time basis before August.