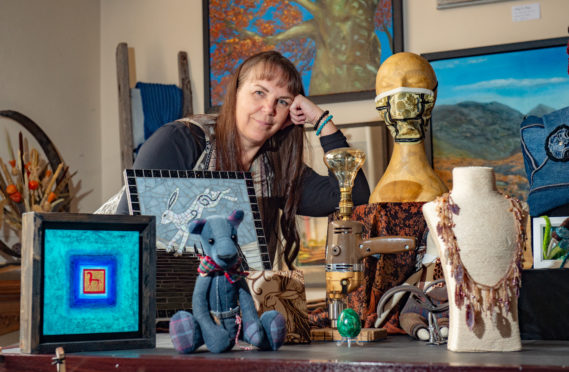 A Moray shop owner has been inundated with requests for protective face masks after care homes across the region were approached to find out if they are short of supplies.
Skye MacKenzie, who runs Imagine in Elgin, made nearly 50 pieces of protective equipment herself before reaching-out through the local business improvement district to see what more was needed.
Within two days, the businesswoman had been inundated with 780 requests from about 300 carers in Moray – including those working in care homes as well as voluntary carers.
The shop owner and Elgin Bid are now running an online fundraising auction to secure the money needed to buy materials to make the masks.
Items donated by local crafters including paintings, hand-made clothing and accessories will go under the hammer today, with the sale concluding on Wednesday, May 27.
Mrs MacKenzie said: "I was speaking to one of my oldest friends, who is a care worker, who first told me about how serious the shortage of protective equipment is.
"I was able to make 49 myself – enough for a couple each at one care home – but it really made me wonder how other care homes were faring."
Volunteers have been identified to help manufacture the masks from materials that are bought with the proceeds.
Mrs MacKenzie has paid tribute to crafters and artists who have donated items to help support the project.
Elgin Bid is running the fundraising auction on its Facebook page, with any money not used to be donated to Moray Food Plus.
Meanwhile, the business improvement district has also been supporting town centre firms during the lockdown – providing advice that has contributed to £290,000 worth of funding being distributed.
Chief executive Gill Neill said the organisation had already been involved itself in providing masks for local carers.
She said: "While the masks we were able to make are not PPE, the homes were keen to have them for their staff when they finish their shift, helping them to return home safely.
"We have been able to provide masks for more than 300 care workers across five homes.
"I cannot thank Skye enough for asking us to get involved in this project.
"We all want to do something practical to help and it's been lovely to see people come forward to give us their time so freely."
The silent auction will conclude at noon on Wednesday.