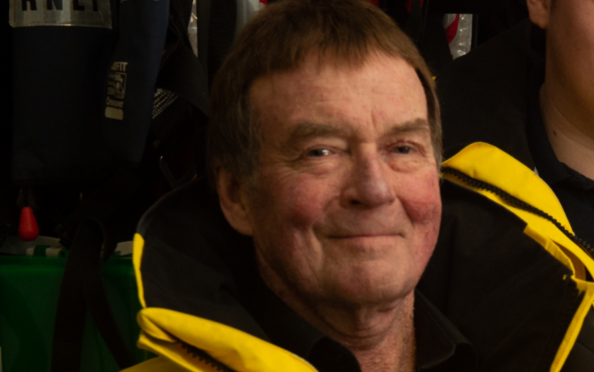 A devoted community stalwart from Moray has died suddenly just days before his 70th birthday.
Adam Robertson, from Buckie, was an integral part of the town's lifeboat operations for more than 30 years and was one of the founding members of the local Fishing Heritage Centre.
Guards of honour were held outside the lifeboat station and the fishing heritage museum this week as more than 100 people lined the streets for Mr Robertson's funeral procession.
As well as his dedication to seafaring life he was also an officer at the Boys' Brigade in Portessie.
Meanwhile, the Porgordon Fireworks group set off a 50-shot multi-coloured cake rocket this week in his honour to mark his contribution to the annual event that draws thousands to the coastal village every year.
Mr Robertson initially became involved in the lifeboat as a fundraiser helping to organise annual gala days before rising to become one of the senior onshore personnel as deputy launching authority responsible for ensuring the vessel can go to sea and arranging ambulance support if required.
However, despite his firm strong interest in life at sea he preferred professional life on dry land during a 34-year career in building control with the local council.
Son Alan Robertson, who is also a long-serving member of the RNLI, said: "Local history of the town was what he was mainly interested in, he was fascinated by it.
"His dad ran a painter's business and at that time there would have been a lot of boats being done in the harbour so he would have spent a lot of time down there.
"His job took him round inspecting new houses and extensions so he was very well known locally."
Mr Robertson was among the longest surviving kidney transplant patients in the country.
After retiring from Moray Council he spent his retirement enjoying city breaks with his wife Elaine Robertson – including embracing their shared love of Queen with annual trips to the Freddie Mercury statue at Lake Geneva.
Mrs Robertson said: "He was a family man who would do anything for anyone, his love for the community was exactly the same.
"People would always put him forward for things. He might have complained about it at the time but he always put others ahead of himself."
Mr Robertson is survived by his wife, his son Alan and his wife Caroline, his daughters Lesley, Judith and Rachel, five grandchildren and one great-grandchild.
A public memorial service is being planned for when coronavirus restrictions are relaxed.