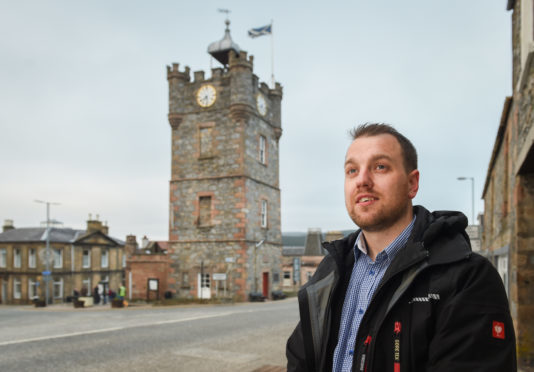 Communities on Speyside are celebrating a £4million cash boost following a two-year battle with an energy giant over fears they were being short-changed.
Villages in Moray stand to benefit from the huge 59-turbine Dorenell Wind Farm on the Glenfiddich Estate south of Dufftown.
However, anger grew when it emerged the size of the community benefit fund put forward by operator EDF Renewables was less than half of what Scottish Government guidance recommended.
Initial offers proposed £2,000 per MW of energy generated when guidelines encourage developers to pay £5,000 – meaning a projected £27.5million fund over the 25-year lifespan of the development would be slashed to £11million.
Now campaigners have announced that negotiations have boosted the total to £16million to benefit residents in Dufftown, Auchindoun, Glenrinnes, Glenlivet, Inveravon and the Cabrach.
Despite the total continuing to fall short of the Scottish Government guidance, locals are "delighted" to secure the extra cash for the area.
Fraser McGill, chairman of Dufftown Community Association, said: "It's a moment to celebrate, some of the community representatives have dedicated 13 years to this and without their persistence there would not have been such a favourable outcome.
"It's a fitting end to the commitment which volunteers have shown. The communities are looking forward to maximising the benefits that we can achieve from this substantial amount of money."
The extra investment includes an additional £1million grant from EDF to a special projects fund that will run during the first five years of the wind farm.
Mr McGill explained that money would be invested in an endowment fund to continue to benefit villages beyond the lifespan of the turbines.
Tricia Lawson, secretary of Glenlivet and Inveravon Community Association, said: "We're delighted that after protracted negotiations we will be able to participate along with the other communities to help residents create an enduring legacy.
"The fund will bring exciting opportunities for large and small projects, which will enable members of all age groups within our communities to help support a viable future."
EDF declared the wind farm open in September last year after planning permission was originally granted by the Scottish Government in 2011.
Applications to the community benefit fund, which will be administered by independent charity Foundation Scotland, will open on July 1.
Moray MSP Richard Lochhead said: "I was pleased to be able to support the communities and to add my voice the calls for fairer treatment from EDF.
"The national standard in Scotland for community benefit from onshore developers is £5000 per MW and whilst EDF won't be delivering that level of support, it is to be welcomed that an extra £4million will be allocated over the course of the wind farm's lifetime.
"Onshore wind has a valuable role to play in our energy mix but companies who are generating huge revenues from Moray's natural resources must recognise that they have a responsibility to help local development and our economy."
Piero Maggio, director of asset operations at EDF Renewables, said: "We are pleased the local community can now benefit from funding throughout the lifetime of the wind farm."