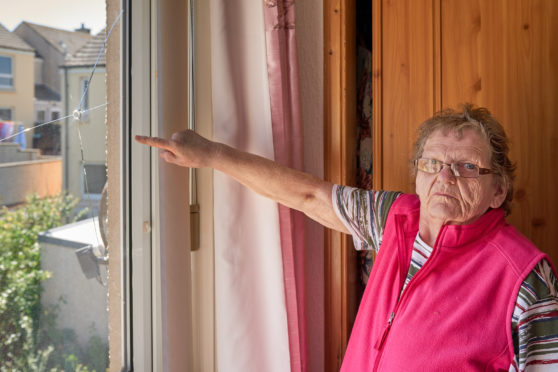 A Moray pensioner fears vandals shot at her home after a hole the size of a 10p coin was left in her bedroom window.
Stella Stewart, from Burghead, was sleeping inside when she was awoken by a loud bang at about 10.30pm.
When the shocked 77-year-old went to inspect what had happened, she discovered the glass at the rear of her home had been shattered.
Police have confirmed they are treating the incident as vandalism.
Mrs Stewart, who has lived in the village her entire life, believes the damage was caused deliberately by someone aiming a projectile, possibly a pellet or ball bearing, at her window.
She said: "I had gone to my bed early and got woken up by a terrible bang, I had no idea what it was.
"When I got to the window I saw this huge hole there. I was just terrified. Who would do such a thing?
"Some people thought it was maybe someone shooting gulls. I don't think it's anything to do with gulls, I don't have any nesting on my roof and why would they be aiming at my window anyway?"
Mrs Stewart immediately phoned the police after the incident which smashed the outer pane of glass of her upstairs bedroom window at about 10.30pm on Saturday.
Police officers who attended tried to search for the projectile after being called to the home.
Neighbours also reported hearing a bang and the glass smash but the source of the noise is not known.
Family and friends of Mrs Stewart have since visited the property to reassure her.
She said: "I think it must have been deliberate, I can't think how it would have been done any other way. I can't think why anybody would be doing such a thing though.
"The police had a look for a pellet or a ball bearing but couldn't find anything, it must have been something like that with the size of hole though. It wouldn't be a stone."
Police have confirmed they are investigating the incident.
A spokesman said: "We were called at about 10.55pm on Saturday following the report of vandalism to a property on Fraser Road in Burghead.
"Inquiries are ongoing to trace those involved."