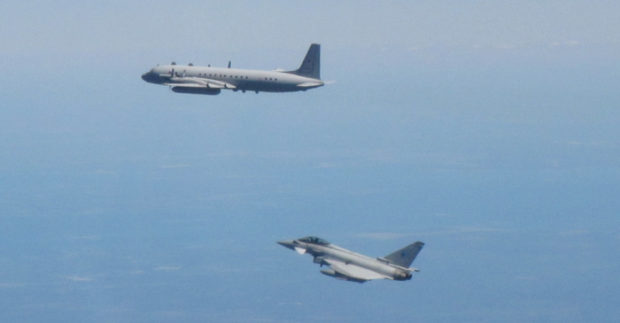 Moray air crews deployed to Eastern Europe to protect Nato airspace from enemy intruders have been scrambled for the first time.
Typhoons from RAF Lossiemouth have been based in Lithuania on a mission to defend allies in the region for more than a month.
The crews have now been scrambled for the first time to respond to an unidentified aircraft that was approaching the airspace.
#TeamLossie & @RoyalAirForce personnel deployed in Lithuania on @NATO Baltic Air Policing had their first scramble yesterday, intercepting a Russian IL-20 intelligence gathering aircraft, known as a 'COOT'.

Watch for more 👇🎥#WeAreNATO #TeamLossie #SecuringTheSkies pic.twitter.com/Xk8fenWMjY

— RAF Lossiemouth (@RAFLossiemouth) June 3, 2020
Once within visual range the plane was identified as a Russian intelligence, surveillance and reconnaissance aircraft.
The Typhoon pilots shadowed the intruder as it approached Nato airspace before it changed course.
The 6 Squadron pilot who responded to the call said: "The initial scramble was a real shot of adrenaline, but once airborne it was important to remain calm and professional and make the intercept as expeditious as possible to ensure we maintained both the safety and integrity of Nato airspace.
"This is what all of our training is designed to prepare us for however, at the end of the day it's just my job."
The Russian aircraft was also not responding to calls from air traffic control in the area – posing a potential risk to other planes flying in the region.
About 150 RAF personnel from bases across the UK have been deployed to Lithuania as part of the mission with 135 Expeditionary Air Wing.
The intercept is part of Nato's air policing mission, which involves allies taking turns to protect the sky for nations that do not have the capabilities to do it themselves. Jets from the Spanish Air Force are also operating in the area at the moment.
Crews are tasked with being ready to scramble to intruders at any time, similar to the Quick Reaction Alert mission run from RAF Lossiemouth.
While in Lithuania UK crews have also participated in simulated attacks on Nato warships to test their defences.
Wing Commander Stu Gwinnutt, 135 EAW commander, praised the work done by crews in response to Tuesday's scramble.
He said: "It is great to see all of the training come together in a timely response and a successful NATO Baltic Quick Reaction Alert Air Policing mission."