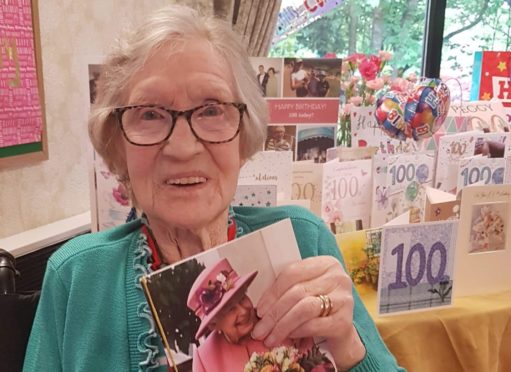 The coronavirus lockdown has not prevented a keen Moray musician celebrating her 100th birthday with friends and family.
Margaret McConnachie, better known as Peggy, has been prevented from seeing loved ones due to the doors at the Speyside Care Home in Aberlour where she lives being closed to visitors.
However, the centenarian did not let the pandemic get in the way of her big day by having a virtual party with loved ones as well as waving through the window at those who had gathered in the garden.
She was also delighted to receive a congratulatory message from the Queen through the post as well as from Andrew Simpson, the Lord Lieutenant of Banffshire.
Mrs McConnachie was born and brought up on the High Street in Rothes before moving to Glasgow to study nursing.
She was forced to cut her time in the city short due to family illness to be with her mother, who was blind, and her grandparents.
She married husband Jock in 1940 when she was 20 years old while he was on leave from the Highlanders and after the Second World War they moved to Allardyce Crescent in Aberlour, where they had twin daughters and lived throughout their entire married life.
The couple often visited Italy, where Mr McConnachie had been held as a prisoner of war, to pay tribute to the fallen.
During her career Mrs McConnachie worked several jobs but was most recently at Walkers until she retired.
Away from work she loves music and continues to enjoy playing her piano and electric organ.
After her husband died 16 years ago she continued to live at home until she was 98 years old before moving into Speyside Care Home.
Her pride and joy are her six grandchildren, 10 great-grandchildren and two great-great-grandchildren.
Louise Queen, manager of Speyside Care Home, said: "Peggy had a lovely party and was delighted to see so many of her family, albeit virtually or from a distance.
"She has been overwhelmed by the many wonderful birthday messages she has received from family and friends and, of course, Her Majesty the Queen."