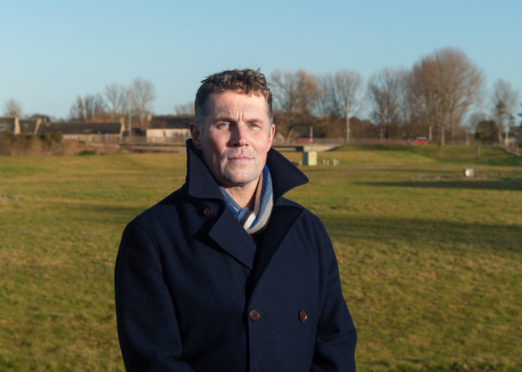 Campaigners fighting to create a new artificial sports pitch in a Moray town are locked in a race against time to secure a home for the project.
The Elgin Sports Community Trust has been battling to secure land next to the town's Borough Briggs football stadium to create an all-weather facility.
Moray Council had been due to make a decision about whether to give the group the land last year – but opted to delay making a call to determine whether the Lesser Borough Briggs plot, which has been valued at £325,000, could be sold commercially.
Next week councillors will meet virtually to debate whether to grant a 99-year lease to the trust or whether to reject the bid entirely.
However, the group is still to get planning approval for the project with a contractor working on runway upgrades at RAF Lossiemouth offering to underwrite the entire building cost – but only if they are still in the area at the time.
Chairman Dave Allen said: "I'm just pleased we're finally going to get a decision. There was a meeting scheduled for May but it got cancelled due to the virus, so I'm really grateful that an emergency meeting has been arranged to decide it.
"We're into our fourth year now and we've jumped through every hoop and done everything that has been asked for us. I think we've got a very robust case.
"We've got contractors willing to help us providing they are still in the area. There's a lot hanging on this."
A scheme to extend the runway at RAF Lossiemouth are expected to be completed in November with resurfacing works expected to continue until spring next year.
Elgin's common good fund, which owns the Lesser Borough Briggs land, currently receives about £5,000 per year from Moray Council leasing the plot to circuses and fairs with the money used to support causes in the town.
The authority has proposed a £3,000 lease for the trust, which already has interest from Elgin City FC and its community football programme, Moray Rugby Club and amateur teams to book the pitch.
Councillors will meet to decide whether to approve the request at an emergency cabinet meeting on Wednesday.
In a report, asset management coordinator Andrew Gray said: "Elgin Community Council has confirmed its support for the proposal. The public consultation confirmed that the local community supports the community trust's request for a 99-year ground lease of the site for the purpose of developing a multi-purpose, multi-sports playing surface."