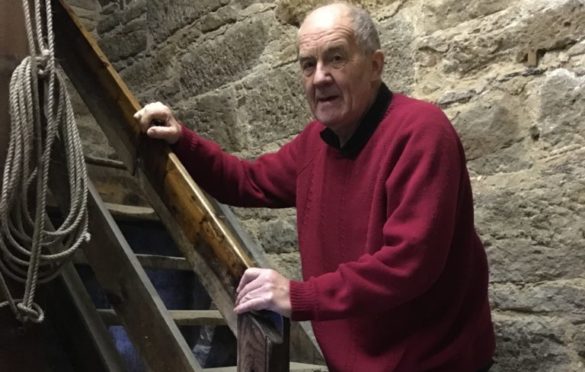 Restoration work at a Moray town centre landmark has revealed signatures believed to be from workmen nearly 200 years ago.
The Forres Heritage Trust is currently working on a project to allow members of the public to enjoy panoramic views from the town's Tolbooth from a walkway surrounding the clock tower.
However, the project required the replacement of the original wooden stairs to comply with modern building regulations.
During the removal of the old steps the signatures believed to be from the original workmen nearly 200 years ago were revealed.
Now it is hoped the tradition will be repeated when crews from Forres-based contractor AJ Engineering come to install the new stairway.
General manager Graham Alexander said: "It's all drawn up and the fabrication of the stairway is about to start.
"Depending on the government restrictions regarding essential work, we hope that we will be able to have the stairs installed by the end of June.
"The Tolbooth is one of the town's oldest buildings and these new stairs will certainly be robust enough to last for hundreds of years to come."
The heritage trust wants to create public access to the clock tower in the hope it can become a visitor attraction.
The group saved the historical building from being mothballed in 2013 after Moray Council declared it surplus to requirements.
Trust chairman George Alexander said: "We were able to remove the stairs quite easily and in doing so we revealed the signatures.
"There is always some little gem that you come across when carrying out renovations in a building with such historical significance.
"I daresay that when AJ Engineering come to install the new staircase, we will ask the workers to continue this tradition and put their signatures somewhere too."
He added: "The next steps will be to repair the lead floor of the gallery around the clock and replace some of the pointing on the stonework.
"Once this is done then the third stage is to get the walkway made safe for the public by getting a safety rail of some sort designed and installed around the parapet."
Efforts to restore access to the walkway surrounding the tower were boosted by a £9,375 from the Scottish Government's town centre regeneration fund.