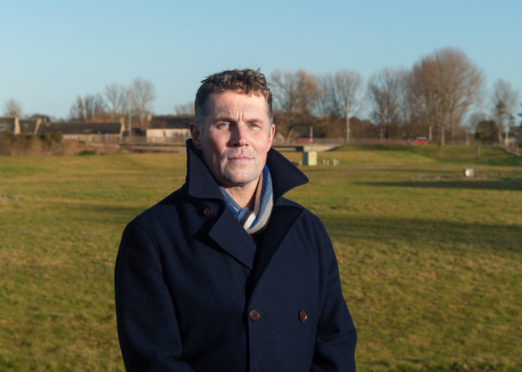 A four-year campaign to build a new artificial sports pitch in Moray has cleared its biggest hurdle.
The Elgin Sports Community Trust was yesterday granted a 99-year lease for Lesser Borough Briggs to help promote physical activity in the town.
Moray Council will now submit the application to the local sheriff court for approval as the the land is owned by Elgin's common good fund.
Despite the good news, the trust has warned its project still faces a race against time if it is to become a reality.
Contractor Volker Fitzpatrick has agreed to build the pitch – but only while crews are still in the area working on the resurfacing of RAF Lossiemouth's runway.
Trust chairman Dave Allen said he remained "optimistic" the group would continue to meet the expected deadline of early next year for the firm.
He added: "We're hoping the court will take it out of sequence and we're confident we have a robust case to get planning permission too.
"Getting agreement for the lease though means we are ready to go with submitting applications to funders.
"All of that has been on hold until we got this. This was the biggest hurdle."
Moray Council's emergency cabinet debated the pitch proposals yesterday for more than two hours before approving the £3,000 annual lease.
Elgin City North councillors Frank Brown and Maria McLean voted against the move – arguing the Lesser Borough Briggs site should be reserved for economic development and suggesting Deanshaugh should instead be offered to the trust.
However, senior council officers explained there were no proposals for the land, with a hotel vision having been shelved due to flooding and access concerns.
The site was previously used for football matches until floods in 2002 and is now predominantly leased to circuses and fairs.
The trust has secured interest from Elgin City FC, Lossiemouth FC, Moray Rugby Club and other groups to use the pitch amid a shortage of facilities in the area.
Elgin City South councillors Graham Leadbitter and John Divers backed the bid after a public consultation  found residents were supportive of the project.
Mr Divers said: "When I first joined the council in 1999 this very same area was being looked at as part of a golden triangle with a supermarket and new town hall.
"The people of Elgin were up in arms about that.
"They wanted it to be kept as part of the green-belt corridor, with a leisure and recreation use."
The emergency cabinet voted by five votes to two to grant the lease.