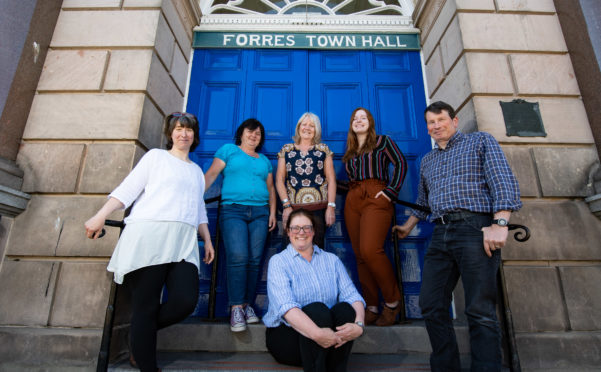 Moray Council have agreed to support two community redevelopment projects in submitting bids worth a combined £4.1 million for Scottish Government funding.
The Forres Area Community Trust (Fact) are applying for £2.77million from the regeneration capital grant fund to complete its vision for Forres Town Hall, which it saved from closure.
Meanwhile, the Cabrach Trust is seeking £1.4million for its project to convert an abandoned farm in into a historic distillery and heritage centre to showcase traditional methods used in the 19th Century to attract visitors and sustain jobs in the remote area.
At the Moray Council meeting, officials said they would act as the lead applicant on behalf of both groups in the process.
Fact has already saved the Victorian town hall in Forres from being boarded up after signing a lease in 2018 and last year had a £75,000 offer to buy the building accepted by the council.
Earlier this week Fact development manager Debbie Heron told the P&J that the organisation wanted to create a "much more" flexible space to be used as a multi purpose venues for youth groups, charities or social enterprises.
The project would include installing tiered seating for performances, creating 20 small offices available for rent and disabled access to upper floors for the first time.
The total cost of the Forres Town Hall revamp has been estimated at nearly £3.1million with potential funding from Highlands and Islands Enterprise identified to make up the gap.
The Cabrach Trust already has £2.1million of funding in place its distillery project from various sources with the Scottish Government grant identified to fill the remainder.
Moray Council's economic growth and regeneration manager Reni Milburn said: "Collectively, both Cabrach initiatives will provide employment for 15 people.
"The project will generate about £20million in economic impact to the local economy over a decade and will be major contributor through jobs, the heritage centre, the distillery and its supply chain."
Councillor Aaron McLean praised Fact for their "exciting" project plans for redeveloping the hall.
Mr McLean added: " Fact took over what was a run down town hall and their plans going forward are really exciting."