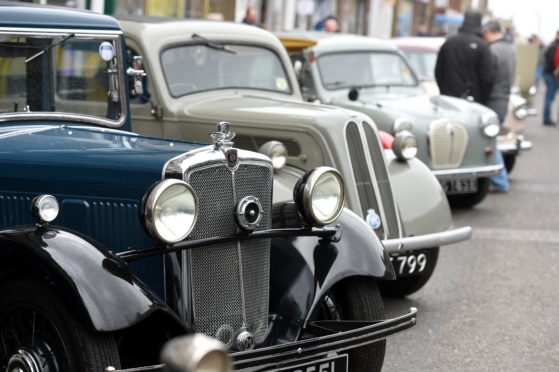 A popular north-east car show is preparing to go ahead after being able to comply coronavirus restrictions – but have warned it will not be at full throttle.
Scotland's summer event schedule has been decimated by the pandemic with communities being forced to cancel much-loved gatherings.
However, the annual classic car show in Buckie is poised to be one of the few to ahead after making changes to comply with health guidelines.
The capacity of gleaming vehicles on display will be cut from 500 to 350, a maximum of 2,000 people at a time will be limited to the Linzee Gordon Park venue and a one-way system will be established to control spectators.
Yesterday show chairman John Clark admitted complying with the rules had been strenuous – but was delighted to be able to host the annual show in August.
He said: "The council and the police have been a big help for us. Three months ago I got in touch with them to see whether we would have to cancel, they suggested we hold off just to see where we are nearer the time.
"We've been able to get the go-ahead at the moment providing we're in phase three of lockdown easing, which hopefully we will be unless the cases start increasing again.
"The biggest thing in all our minds has been to comply with government advice to make sure we can hold the show safely."
More than 460 vintage vehicles packed the park last year on a scorching summer afternoon on the Moray Firth coast.
Other changes expected to be made this year will include rearranging the cars on show into rows with spectators prevented from walking between them.
Hand sanitising stations will also be set up throughout the venue to limit the chances of people spreading the virus.
A craft tent for traders will also be dropped with vendors instead due to set up in the open air.
Mr Clark said: "A lot of the small crafters have really lost out this year because they've had nowhere to go so we're not charging for stalls this year – they've supported us over the years so now we want to support them.
"We've had to make some other small changes too, like children won't be able to get their photographs taken in the cars and we won't be able to accept any late entries on the day.
"It won't be quite what people are used to, we're just chuffed we've got a show this year."
Buckie Classic Car Show is due to take place on Sunday, August 30.