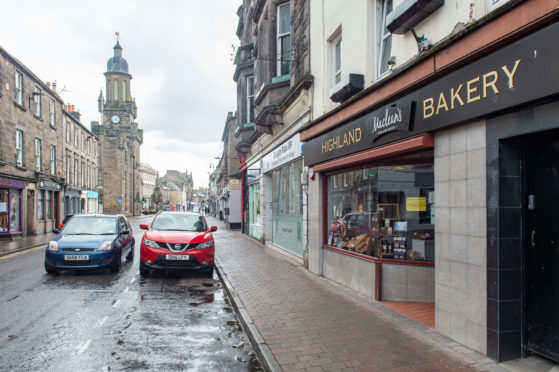 Moray Council has been forced to backtrack on social distancing safety measures outside a Forres bakery following complaints the restrictions were "strange" and "unnecessary".
Cones were put up blocking off access to a stretch of road outside Maclean's Highland Bakery in the town's High Street as part of efforts to allow residents to pass one another on the street at a safe distance.
The spot in question was deemed to require attention because council officers found people often formed large queues there.
But locals greeted the restrictions with a mixture of bafflement and anger, claiming there was no need for the six parking bays to be blocked.
It was confirmed yesterday that the council had decided to withdraw the obstructions after taking the backlash into account.
Forres councillor, George Alexander, last night said the U-turn would be welcomed.
Mr Alexander said: "I'm really pleased that Moray Council has reviewed the situation and found that the cones are no longer necessary.
"The measures were unnecessary and the main reason we had congestion there was because of a fish van that used to park there, and was causing problems with pedestrians as they were all queuing to get fish.
"The council moved the van to another location at the top of Tolbooth Street where there was much more room, and removed the need for any restrictions.
"I was keen to get the restrictions removed as it was stopping people parking there who were maybe disabled or elderly as they only had to park there and pop into the bakers or the Co-op nearby.
"This will make it all so much easier for them."
The region's MP, Douglas Ross, said he hopes that the lifting of the "strange" restrictions will help give businesses in Forres a boost.
Mr Ross had staged discussions with Moray Council and its roads and transport department amid growing concerns about the restrictions.
He said: "This should help elderly shoppers or those who are disabled or infirm to park near the shops to do their shopping.
"This will hopefully also be a boost to the local businesses who originally raised their concerns with me about the removal of all these parking bays.
"To be fair to the council, they did what they thought best to allow safer shopping for all and sectioned off a six-bay parking area to allow other pedestrians to pass any queues outside Maclean's the bakers on High Street safely."
He added: "However, when you consider that there are actually no queues at any of the business premises directly beside this area, it seemed strange to block off six parking bays."
Council transport chiefs said they had found footfall reduced at the spot since the restrictions were put in place and decided it would be safe to remove the cones and open up the stretch of road which had been cordoned off.