A £1,000 charge to deliver a chair to Moray has been branded as one of the most "ludicrous" examples of courier surcharges to the north.
Retailer Mano Mano will deliver furniture to addresses in Edinburgh for free without excess costs.
But when orders are placed to deliver to Aberdeen, Elgin and the Highlands the France-based firm adds a massive £1,000 surcharge – even on items costing less than £100.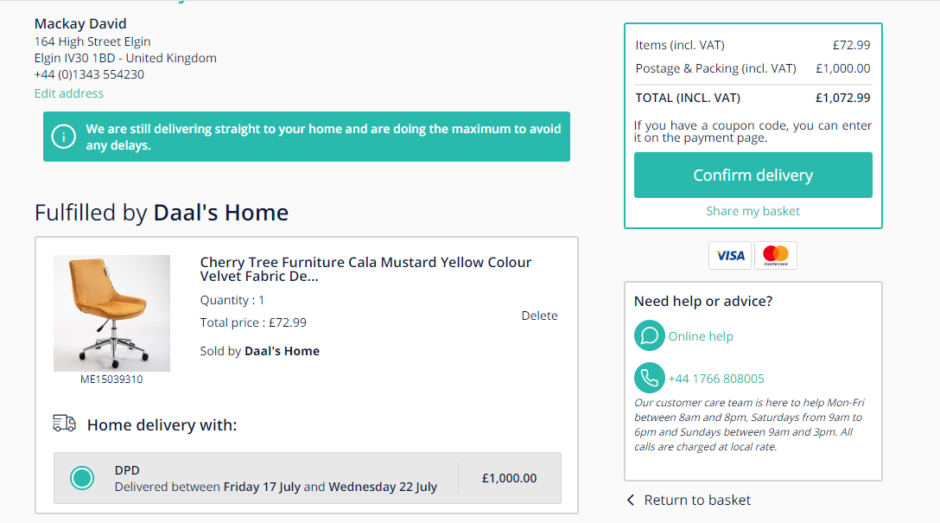 The site describes itself as a "marketplace" to connect buyers with sellers who list items for sale – explaining they do not "handle logistics".
However, when identical items offered for sale from Daal's Home are compared, the £1,000 surcharge is only added for purchases from Mano Mano's site.
Daal will charge £10 for delivery to Elgin and the north on its own site while deliveries of smaller items to Aberdeen are free.
The eye-watering delivery fee was reported by a shopper to Moray MSP Richard Lochhead, who has campaigned for several years against extra delivery charges to rural locations.
He said: "Over the last few months, lockdown meant that people were forced to shop online and sadly, my inbox suggests that many companies and couriers have continued to impose ridiculous delivery surcharges on customers in Moray and across the north of Scotland.
"I have to say I was gobsmacked when I heard that this company had calculated a delivery charge of £1,000 for a chair costing £75.99.
"It is one of the most ludicrous examples I've come across and I've now written to the company to ask that they review this ridiculous and hugely unfair charge.
"Of course now that our local shops are reopening, one way for shoppers to avoid these additional charges is to support Moray businesses and buy local if you can."
Research carried out by the Scottish Parliament calculated that delivery surcharges cost Scottish residents £40 million during 2019, an increase of 11% since 2017.
Issues raised during the cross-party campaign against the extra costs include companies advertising "free mainland UK delivery" before adding on additional fees to deliver to the north.
Concerns raised by shoppers have prompted the Advertising Standards Authority and the Competition and Markets Authority to issue enforcement notices to firms who do not clearly state delivery prices.
Neither Mano Mano or Daal's Home responded to requests to comment.