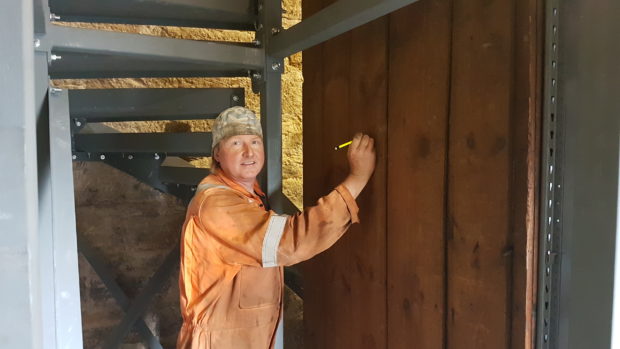 A Moray workman who installed a new stairway in a historic building has signed his name – just like his counterparts did 100 years ago.
New steel stairs have been installed in the Forres Tolbooth as part of a project to open up access to the clock tower to make it a tourist attraction.
When work began on the project, volunteers removed the old wooden staircase, only to discover signatures from tradesmen who had worked in the building over the years.
So AJ Engineering's Cliff Robertson – who designed, fabricated and installed the stairway – signed the stairs to continue the legacy.
Chairman of the Forres Heritage Trust George Alexander said: "There is an extensive amount of history in the Tolbooth and it seems that every time we start a new project or develop something new, we unearth even more intriguing finds.
"Inside the clock tower there are dozens of signatures, clearly from people who have worked in that area of the building and it was a fitting tribute for Cliff to do the same."
While Graham Alexander, general manager of AJ Engineering added: "This has been a fascinating project for the team to work on and we are delighted that we have been able to be part of the Tolbooth's legacy and add our mark for many more years to come."
The project's next phase which involves repairs around the walkway and extensive pointing of the stonework around the clock tower is expected to begin in the autumn.