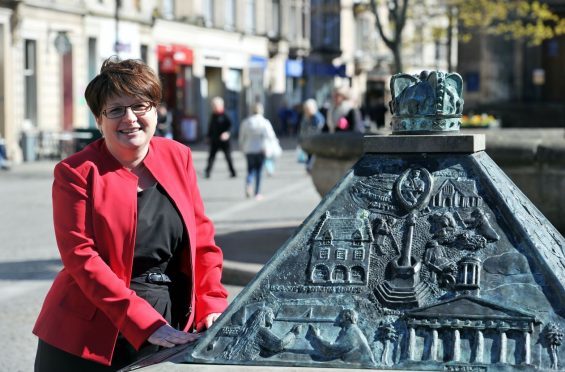 A business leader in Elgin believes the town is ideally positioned to bounce back after coronavirus, with green shoots of recovery already visible.
Gill Neill, who will step down as chief executive of the local business improvement district next month after eight years in charge, has helped drive down the vacant shop rate in the centre to 6.8% during her time in charge – nearly half the Scottish average of 12.9%.
And she believes the work undertaken over the last decade means the town has the potential to recover quicker than elsewhere.
Mrs Neill said: "Elgin went into this situation in a far stronger position than the Scottish average.
"We've already sadly lost some businesses, and will undoubtedly lose some more, but people here are really resilient and have found some inventive ways to operate.
"Times are tough at the moment but even in the last few weeks I've had a number of local people get in touch with us to find out details for vacant properties.
"I think this period has made people re-evaluate what they want to be doing and maybe taken more time to work on ideas they've always had and have realised now is the time to give it a bash with something fresh, which would be something positive to come out of all of this.
"National chains will always be slightly more difficult because they have bigger portfolios and need larger premises."
Initiatives run by Elgin Bid to help reduce vacant units in the centre have included taking possession of property keys from some agents to undertake multiple viewings for prospective firms themselves.
Meanwhile, the board has recently committed to renewing a gull deterrent project that involves using lasers to scare off birds from nesting on roofs.
In recent years, the business group has objected to out-of-town retail developments at Edgar Road and next to the A96 Aberdeen road.
But Mrs Neill believes the centre will always have a unique attraction that can never be replicated elsewhere.
She said: "Out-of-town has always been a problem for us. One of the difficult things is there are no car parking charges there, so it means there is a different playing field.
"Where I think the centre is stronger is that we offer something a bit special.
"People are invested in businesses in the centre, sometimes with all their savings, rather than simply working there, which I think makes for better customer service.
"Going into town is more of an experience. Covid-19 has made us all realise how important friends and family are and hopefully, as we start to move around more, the centre can be a meeting place again."
Gemma Cruickshank has been appointed as Mrs Neill's successor. She will take up the position on August 3.
Future developments need help
Elgin business improvement district's departing chief executive believes future developments will help retailers continue to thrive.
More than 4,500 homes are already planned for the town amid the continued expansion of nearby RAF Lossiemouth.
Gill Neill believes Elgin's location and future outlook continues to make it an attractive place for independents and big brands to do business.
She said: "From where we're positioned we have a big catchment area because it's the largest town in Moray and nicely between Aberdeen and Inverness.
"It's large enough to attract the national chains but also a small independent offer, which means you'll get something unique instead of some big cities where you really could be anywhere.
"You can wander off down lanes and find something you maybe wouldn't expect to find, which is quite unusual these days.
"There's a lot of house building going on and one thing we have been trying very hard to promote is the conversion of the unused upper floors in the centre into accommodation.
"If there are more people living in the centre, they're more likely to pick up shopping and go out because it's right on their doorstep."