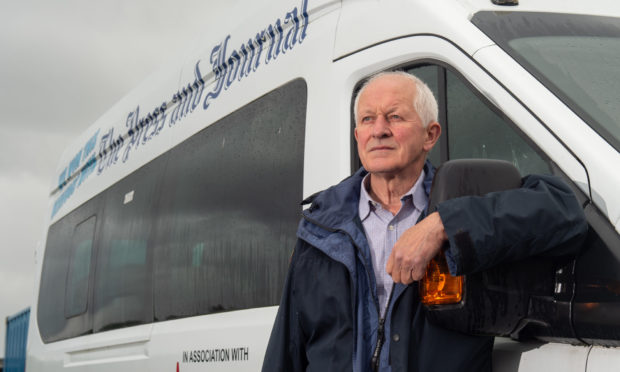 Concerns have been raised that rural areas will continue to have to put up with "inadequate" public transport unless councils are given more cash to run services themselves.
Bus routes across the north and north-east have dwindled in recent years as commercial operators pull out of routes as passenger numbers decline.
However, it is feared that those who continue to rely on the connections will become isolated from town centres once links are pulled from their community.
In Moray, campaigners in Burghead are drawing up plans to use a minibus won in a Press and Journal competition to create lifeline links to Lossiemouth just eight miles away where return journeys by bus take an incredible four hours due to passengers having to change in Elgin.
Jim Patterson, a member of Burghead and Cummingston Community Council, said: "There's no buses running along the coast now, we're very short of public transport which is really concerning for the region."
Highlands and Islands MSP Jamie Halcro Johnston believes more connections can help make rural communities more attractive places to live in as well as commute from.
He said: "The current system of delivery of public transport is not adequate.
"It may suit the Central Belt where operators can normally rely on large passenger numbers making services commercially viable but for areas like Moray these levels of footfall simply aren't realistic.
"Relatively modest support could help deliver tangible improvements to our local bus services, which could play an important part in helping drive economic regeneration.
"Local authorities are able to support bus services where they are not wholly commercially viable but this power is almost meaningless when decisions by the Scottish Government have left finances so dramatically squeezed."
Concerns have also been raised about town services in Moray when Deveron Coaches axed its circular Elgin routes when funding provided to the council by housing developers ran out despite hundreds signing a petition for it to be saved.
However, the local authority has stepped in to run a town service in Forres to reconnect residents left behind when Stagecoach pulled out.
Moray Council also runs routes from Elgin to Kingston as well as from Forres to Aberlour but has warned its resources are limited while prioritising its dial-a-bus service.
Last year the Scottish Government relaxed rules to give councils more flexibility to improve services with local franchising powers.
Holyrood has awarded more than £80million to operators during the coronavirus pandemic to ensure vehicles continue to run while helping timetables to be restored.