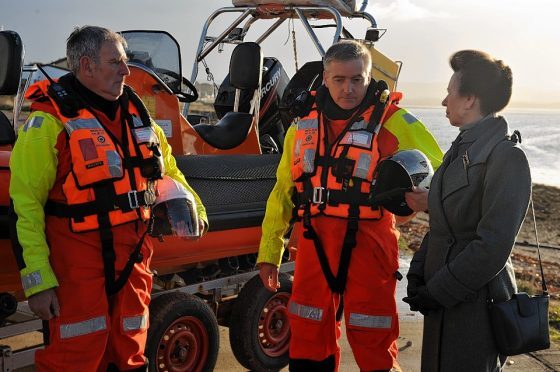 A crew of rescue volunteers who keep Moray's shoreline safe has urged visitors to the region's beaches to take care after an exceptionally busy few weeks.
The Findhorn-based Moray Inshore Rescue Organisation – which provides waterborne emergency assistance along the coast and up to three miles offshore – has been tasked to 11 call-outs between May 30 and July 30.
The spike in demand came as the easing of lockdown restrictions combined with some good weather and a growing number of people deciding to visit Scottish beauty spots instead of holidaying abroad.
Last week, Miro and Coastguard teams rescued a teenager from the water at East Beach in Nairn.
Later that day, the crew and the Coastguard rescue helicopter personnel took part in a joint training exercise as they returned to Findhorn, involving one of the helicopter crew being winched down onto the rescue boat.
On Thursday the Moray volunteers sprang into action again to help a person who had fallen and sustained an ankle injury at the coastal Clashbach Quarry area in Hopeman.
Miro operations manager, Peter Mackenzie, said: "Understandably, people want to enjoy the beach and the coastline, especially if they are fortunate enough to enjoy a spell of good weather.
"However, even experienced swimmers, surfers, paddle boarders and sailors can get caught out by the currents and tides.
"Whilst we want everyone to enjoy our coastal waters and beaches, I would urge everyone to be safe and be aware of the currents and tides as their strength. The speed can often take people by surprise.
"It's a good idea to have a means of calling for help if you or someone else gets into difficulty.
"If you see a person or an animal in trouble on the water, please call 999 straight away and ask for the Coastguard.
"If the person or animal manages to make their own way to safety before rescue services arrive, please call the Coastguard to let them know that assistance is no longer required."
Group chairman, John Low, added: " I cannot stress how incredibly proud me and my fellow Miro directors are to work with such a dedicated team of crew and shore support volunteers.
"Our team continue to be on call 24/7, 365 days a year and will always respond to a call for help, however, I urge members of the public to take care and be aware of the tide whilst out enjoying the sunshine or taking exercise during these restricted times."