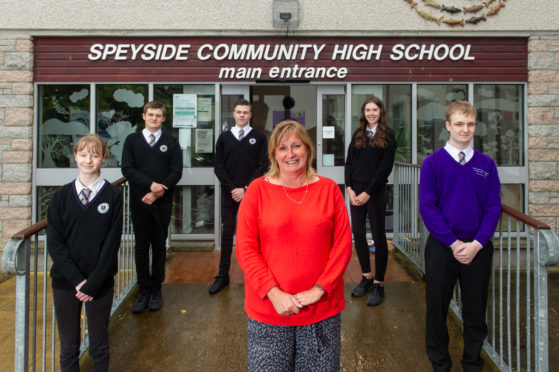 Moray school pupils punched the air with delight when they found out they had achieved their dream results after a "rollercoaster year".
There were jubilant scenes at Speyside High School in Aberlour as youngsters learned their marks.
S4 Pupil Euan Morrice was celebrating six A results at national five in maths, geography, English, physics, computing science and applications of maths.
He also bagged an A in higher music, where he played the piano and accordion.
The 15-year-old hopes his passion for maths can transfer into a career after school.
He said: "I'm really pleased with these results and, to be completely honest, I wasn't excepting to do as well as I did.
"I just enjoy working stuff out in maths, although I hate algebra, and I'm now looking forward to another year. I'm keen to push on."
School leaver Sam Jackson punched the air with delight as he discussed his A grades at advanced higher level for physics, geography and chemistry.
The 17-year-old is now due to start a course in physics at the University of St Andrews following his roaring success.
Mr Jackson added: "I'm well chuffed with all my results and am looking forward to university."
S4 pupil Lauren Fotheringham was speechless when she opened up the envelope to reveal her exam results of seven national five A grades in maths, biology, physics, chemistry, English, business management and applications of maths.
Her fellow S4 pupil Isla Horsburgh was delighted about achieving seven national five A grades in maths, biology, physics, chemistry, computing science, applications of maths and English.
Headteacher Tricia Goodbrand paid tribute to the children for dealing with the challenges posed by the coronavirus pandemic to grab "brilliant" results.
She said: "I'm absolutely delighted with the whole school's results.
"Our S4 pupils have certainly done well, as well as S5 and S6 children, especially during these difficult circumstances.
"As a staff we did a huge amount of work to ensure that what the young people got as grades was a fair representation of what they have done, and how we expected them to do in the final exams.
"Teachers' professional judgement was really important and I thank all my staff in doing a lot of work during such a stressful time."