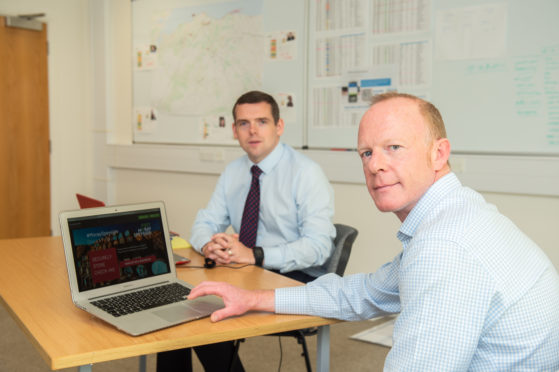 Moray MP Douglas Ross has urged the droves of tourists exploring the region to "respect" their surroundings while on holiday.
This comes as Mr Ross has received complaints from locals concerned about visitors dumping waste and acting "irresponsibly" at the region's hotspots such as Findhorn.
Yesterday the Conservative held a virtual conference alongside Visit Moray Speyside Chief Executive Laurie Piper to discuss a wide range of issues with local tourist representatives as the industry tries to recover.
He also said concerns about the Eat Out to Help Out and furlough scheme would be passed onto the Chancellor of the Exchequer Rishi Sunak.
Mr Ross said: "The conference was a great way to have discussions with businesses.
"People come to visit Moray for its beauty and it is critical that people respect the region.
"If the area is being littered and irresponsible behaviour is happening, this takes away from the beauty and raises a health and safety issue.
"Certainly through my parliamentary office we have had a lot of complaints about litter.
"Meanwhile business have raised issues about the ending of furlough scheme that I have heard loud and clear.
"It has been a great scheme but it is there to protect jobs and if all we have done is only protect them during the Covid crisis and lost at the end it haven't done what we were hoping for.
"We have positive feedback about the Eat Out to Help Out scheme however maybe it might be better later on in the year."
He added: " The region has so much to offer for visitors with great accommodation and food and drink.
" I would certainly encourage people to come and visit the area safely to support the local businesses get through this crisis."
Visit Moray Speyside Chief Executive,Laurie Piper said : "The issues raised were about self catering properties who haven't received government funding and have had challenging treatment from online travel agents.
"While the furlough scheme coming to an end in October which is definitely a concern.
"Businesses are delighted with the Eat Out To Help Out scheme and they should maybe explore having one through October and November as there isn't as much visitors."
Meanwhile the sight of visitors having a great time in towns such as Cullen has been bringing smiles to Mr Piper's face.
He added: "It is great to see more tourists than I expected and I feel like cheering.
"However there has been reports of camper van waste being dumped.
"We want people who come to Moray to be responsible and enjoy it.
"We are ideally suited to the staycation market with a healthy range of self catering properties and located between Inverness and Aberdeen."