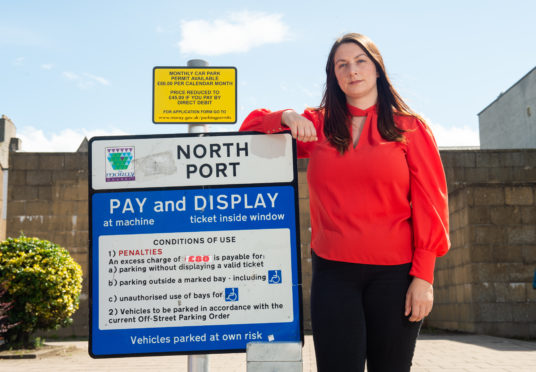 Parking charges will remain suspended in Moray's biggest town until at least October amid concerns businesses are continuing to recover from the coronavirus closure.
Pay and display fees were dropped in Elgin during the pandemic and had been due to be brought back from August 1 before a wave of opposition forced the move to be delayed.
Yesterday, councillors agreed to review the policy again on October 6 amid suggestions the reintroduction could come following the autumn school holidays.
Last night Moray Chamber of Commerce, who led the opposition to reintroduction of charges with Visit Moray Speyside, Elgin's business improvement district and the Federation of Small Businesses, said the delay would help the town centre to recover.
However, warnings were issued that delaying the move too long would damage the council's finances at a time they are already under pressure from extra Covid-19 costs.
Elgin City South councillor John Divers, who is also an Elgin Bid director, argued time was needed to build confidence with shoppers.
He said: "Businesses aren't seeing an increase in shoppers yet. On Saturday the pedestrianised area was quite full, but if you looked inside the shops there were not many people there.
"People are starting to come out slowly again but we need to do something to attract them back into the town centre."
Concerns were also raised during the meeting that car park spaces were being filled by workers in the morning, leaving little space for shoppers.
Former council leader George Alexander, who now leads a group of independent members, argued the free parking was having little benefit for traders.
He said: "At the moment it's just an impression that if we don't charge then the High Street will be busier – there's no evidence to support that.
"We need to get things back to as near normal as possible. At the moment it's not benefiting businesses but it's certainly damaging the council."
Council officers have estimated that dropping charges from August to October will cost the authority £112,000.
Council leader Graham Leadbitter warned the lost revenue could mean spending will have to be limited in other priority areas.
Sarah Medcraf, chief executive of Moray Chamber of Commerce, believes delaying the reintroduction  will be welcomed by both businesses and shoppers.
She said: "After the Eat Out to Help Out scheme concludes, we need to be working harder to encourage people on to our high streets and free parking is certainly a factor in that."