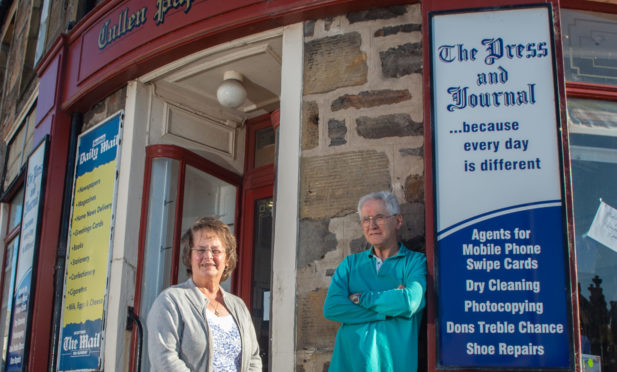 A stalwart couple who have run a newsagents in a Moray seaside town for almost a quarter of a century will retire this week.
Alex Legge, 66 and his wife Moira, 67 will wake up early to welcome customers at the Cullen Paper Shop on Wednesday for the final time.
They have owned the shop in The Square in Cullen since January 1996 but are looking forward to spend more time with their grandchildren after a "rollercoaster" 24 years.
In that time they have seen the best and worst of what society has to offer – and both faced and overcome a number of challenges.
Four years ago, Mr Legge was held at knife point in a terrifying early morning raid at the shop.
And there have been health scares too, with Mr Legge suffering an cardiac arrest and his wife a stroke.
Despite these worrying instances, the pair have enjoyed being a vital part of the community.
Mr Legge recalls: "When we first came here, nobody delivered newspapers in the town.
"We were the first shop in Cullen to give jobs to delivery boys and girls, roles that have been established for around 20 years now.
"We've even appeared in the papers as there was that worrying situation about four years ago when someone assaulted me in the shop – and which the Press and Journal covered.
"I have met a lot of interesting people in my job but my wife keeps telling me we have had only six-and-a-half holidays in 24 years.
"I have been getting up at 5.30am and finishing at 5.30pm every day over the years."
The couple have been inundated with of cards from members of the community wishing them well for the future.
Mr Legge added: "There have been around 60 to 70 greeting cards, which has been great, and over 300 Facebook messages.
"We must have done something right and we have enjoyed helping charities, churches and organisations in the town.
"We have eight grand-children and two great-grand-children so we want to spend more time with them."
It is understood the Cullen shop should reopen following its sale, but may not be a newsagents.