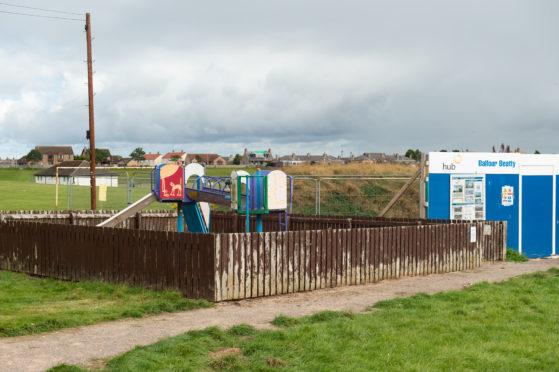 A Moray town's neglected playground has been renamed The Rainbow Park as work gets underway to bring it 'back to life'.
Over the years, The Lossie 2-3 Group's park, located next to the Lossiemouth Community Centre on Coulardbank Street, has fallen into disrepair.
Now volunteers from the town's community council and the playgroup have joined forces to start a revamp project.
Moray Council had told the partners an overhaul of the play area could not be made a priority due to a lack of staff and resources.
The community council's Carolle Ralph said the project aims to make the park once again fit for purpose.
It's hoped providing locals of all ages with a welcoming outdoor space will also help them with their mental wellbeing.
Mrs Ralph said: "This project came about when we were talking to volunteers who help with the emergency care packages about winding-down that effort as finances are tight.
"Volunteers were disappointed about that, especially as some are unemployed, furloughed, retired or suffer from mental health problems.
"Then the Lossie 2-3 Group's Louise McBride spoke to us about the local park being in a poor way and how we could play a part in helping revamp it.
"We decided to help and it has been renamed The Rainbow Park as it has represented hope during the pandemic.
"It is a great way to support people's mental health during these tough times and some work has already taken place.
"We hope that giving the park a new lease of life will encourage families to use it."
Mrs Ralph added that they are thinking of introducing benches so parents can sit back and let their kids play in the safety enclosed park once the project is complete.
Anyone interested in helping or donating to the playpark project can call 07495 912654 or message The Lossie 2-3 Group or Lossiemouth Community Council Facebook pages.