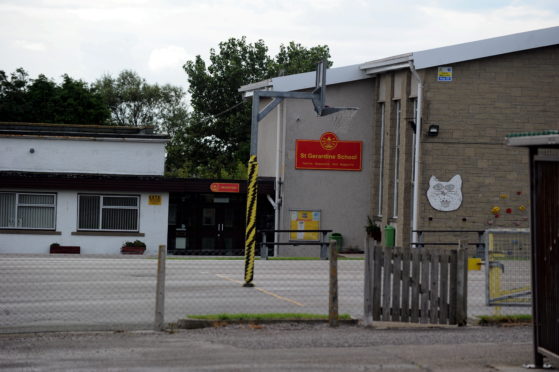 A Lossiemouth school has been closed to primary one pupils after a youngster tested positive for Covid-19.
Parents of all P1s at St Gerardine Primary School were asked to keep their children at home while the case was investigated.
The school did, however, remain open to other year groups.
In a letter shared by parents on social media, headteacher Claire Johnson said on Sunday night: "We have been informed this evening of a case of Covid-19 in primary 1.
"We are working closely with the health protection team at NHS Grampian and our chief education officer to ensure all the necessary actions are taken."
A deep clean has taken place and Moray Council has sought to reassure parents that the 309-pupil school will be fully reopened "as soon as possible".
A council spokeswoman said: "Our main concern first and foremost is for the well-being and good health of the child concerned and we wish them a speedy recovery and hope their family stay well.
"We're in contact with NHS Grampian's public health team, who are advising us on next steps for the school and families.
"Initial advice has been passed to parents and carers at St Gerardine Primary School giving details of what to do if their child displays symptoms of Covid-19.
"We ask anyone contacted through the test and protect process to follow the guidance given, and any health-related questions are directed to the NHS."
Local councillor John Cowe said his best wishes are with the child and family involved.
He said: "I am disappointed to hear this. I hope that this is a case of a positive case that turns out to be negative on second testing.
"It is concerning and it just emphasises the situation that we are in and that we all have to be very careful."
Moray MSP Richard Lochhead said it was an "anxious time" for schools and urged all communities to follow the advice on gatherings, quarantining, hygiene and social distancing to minimise risks.
He said: "With the schools reopened and economy moving again, it is will not be surprising to see Covid cases in various settings throughout Moray just as we are seeing them across Scotland and in other countries.
"This is a reminder that the virus is out there and any town or village could experience such cases between now and any vaccine being produced."
A spokesman for NHS Grampian said: "We're aware of the reported case and the health protection team is working with the school.
"We would take this opportunity to emphasis people should not seek to be tested unless they are advised to do so by Test and Protect or develop symptoms – a temperature, new continuous cough or a loss of taste or smell."