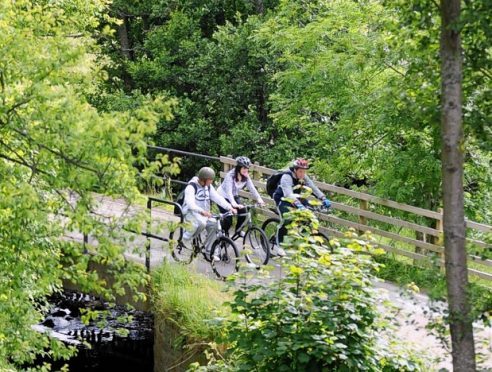 Projects to improve cycling facilities across the north and north-east have secured funding totalling more than £1.5million.
Organisations in Moray, Lochaber and Aberdeenshire have secured a share of the cash from Transport Scotland's low carbon travel and transport challenge fund, which is supported by the Scottish Government and European Regional Development Fund.
Moray Council's grant of £635,000 to make improvements to the Speyside Way was the biggest award in the north.
The project will focus on the section between Carron and Cragganmore to upgrade the route to make it versatile for all seasons.
It is hoped that the work will connect more businesses to the popular walkway while providing a safer route away from the main A95 Keith to Aviemore road, which is used by whisky haulage traffic.
The work will follow improvements made to the trail between Aberlour and Craigellachie last year.
Moray Council leader Graham Leadbitter said: "The first phase of investment in the Speyside Way has been really welcomed by locals and visitors alike.
"This will extend that work to improve a further section of the path, providing a much more accessible route for leisure, and enabling people in local communities to commute to work in an active and sustainable way."
Elsewhere, the Lochaber Environmental Group has been awarded £535,000 to create an electric bike share scheme in Fort William.
The initiative is expected to comprise 80 bikes and 15 docking stations to secure and charge them at key locations in the area.
A mobile app will also be developed to allow cyclists to unlock the equipment and use it with GPS used to track them for security.
Meanwhile, the Huntly and District Development Trust has received £435,000 to establish a new town centre location for bikes.
The shop is expected to offer guides and maps while also providing maintenance for electronic bikes and a meeting point for cyclists.
A second location will be created at the Greenmyres wind farm, where solar panels will be installed to charge electric bikes while providing links to woodland trails and routes to Huntly and Insch.
And Aberdeenshire Council has been awarded £180,000 to create three new paths for cyclists and pedestrians in Portlethen.
The project will involve some new routes being created while some existing ones will also be widened.
The first will run between Cookstone and Portlethen Primary School, the second between Muirend Road and Badentoy will improve access to the industrial estate, while the final path between Muirend Road and Cookstone Road is aimed at reducing car trips to the retail park.