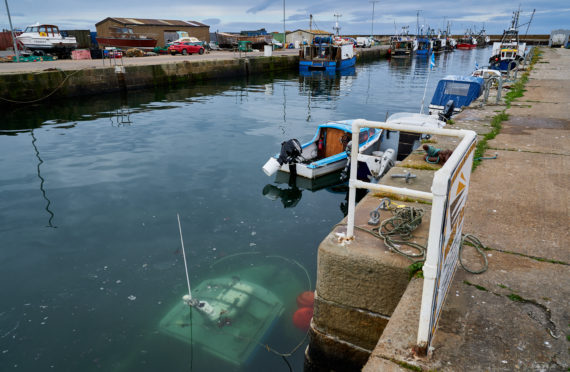 A clean-up effort was launched at a Moray harbour after a small boat sunk overnight and oil leaked oil into the water.
The vessel was moored at the port in Burghead before taking on water and sinking overnight between Sunday and Monday.
Harbour and Coastguard staff attended the scene in the morning.
The boat, named Sula, is understood to belong to a local in the Moray village and is used primarily for catching lobsters.
Locals said the vessel had recently been relocated to that spot in the harbour.
Nobody was on board when it sunk and the cause of the incident remains a mystery.
Fuel started leaking out of the vessel's engine while it was beneath the surface and council workers have been sent to keep any pollution to a minimum.
A Moray Council spokesman told the P&J: "Harbour and Coastguard staff attended at Burghead where a vessel had sunk.
"Oil booms were placed in the water to contain the very light pollution caused by escape of bilge water."
The Coastguard service confirmed that the local Burghead crew was sent to the scene.
Divers and a crane will be on site in the coming days to lift the vessel from the depths.
After that, it will undergo assessments to determine how extensively it has been damaged.
Last April, there was a similar incident at the same port.
Keith Sutherland's boat Emblem was one of two crafts that began to take on water and he feared it would be lost forever after it sunk beneath the water.
The Hopeman-based fisherman, who predominantly catches prawn and squid, was later surprised to discover it had not been written off.