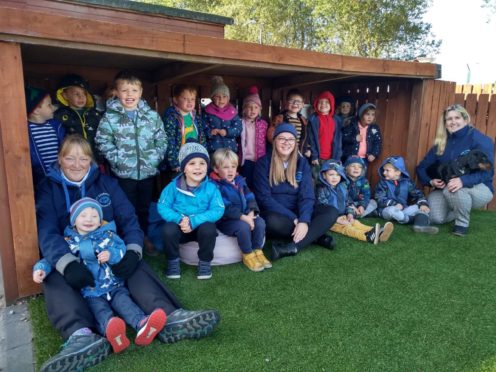 Childcare providers in Moray have so far received £125,000 to help meet the costs of operating within Covid-19 guidelines.
Moray Council has passed on cash from the Scottish Government's Transitional Support Fund to 24 childcare settings, and more are expected to apply.
Childminders are being supported separately, through the Childminding Workforce Support Fund.
A focus on outdoor play to reduce the risk of transmitting the virus, and to allow adults to socially distance more easily, is being encouraged – and the funding is supporting that .
The amount of money awarded to each setting is determined by the number of Care Inspectorate approved places offered to families and ranges from £1,500 to £8,000.
RAF Lossiemouth's Childcare Centre has received £8,000, which is being used to support outdoor learning, providing outdoor accessories, warm and waterproof clothing, creation of shelters and small tents to protect against the weather.
The money will also allow the centre to create a part-time cleaner post to maintain the high level of cleaning.
Centre manager, Debbie Parker-Banfield, said: "Keeping our children and colleagues safe is our priority, and this funding has been vital in addressing the hidden costs associated with the new regulations.
Moray Council's Senior Project Manager for Early Learning and Childcare, Robin Paterson was "pleased " that so many groups had applied for the childcare funding.
The deadline for the scheme is October 9.