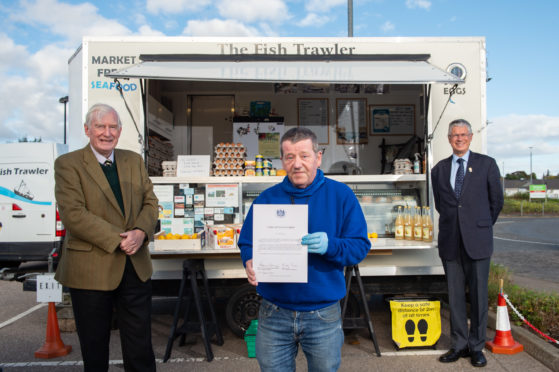 The owner of a Moray fish van has been commended for providing free food and drink to local NHS staff during lockdown.
Ian McCallion from Buckie, who runs Fish Trawler Elgin, has been using his van to deliver supplies such as one litre bottles of milk, bottles of juice, fruit, eggs and cupcakes to Dr Gray's Hospital staff.
He was inspired to start the initiative after being overwhelmed by seeing a distressed nurse crying on the national news about empty supermarket shelves.
The 61-year-old wanted to save workers having to go to the shops after a long shift.
Last night, he was "really humbled" to be included in the Covid Commendations set up by the Lord Lieutenants of Banffshire and Moray to recognise people for their exceptional efforts in helping others during the crisis.
"I really didn't expect to get commended and I am chuffed about it, but it was bit overwhelming as I don't like publicity," Mr McCallion said.
"I enjoy helping others and it is really important especially during these extremely tough times."
Robertson Construction and Jack Carmichael Flooring join forces to help fit and pay for a new non-slip floor and shelves in the van.
Mr McCallion even bought a new van for the venture which cost him £2,600.
He added: "The staff really appreciated the support and it worked well.
"Thanks also to the likes of Walkers, C+R Taxis, Moray Food Plus, Booker Wholesale and Elgin's Orchard for helping to make this all happen.
"At the end of the day I wanted to make sure doctors and nurses didn't have to go away up and queue at a supermarket after a long shift."
This is the first time such Letters of Commendation have been awarded, and the area's Lieutenancies say they felt compelled to publicly recognise the tremendous efforts made by many.
Almost 100 community members and groups have been applauded which includes the likes of the Moray School Bank, Moray Wellbeing Hub, Keith Covid-19 Volunteer Group, Maynes Coaches and Rockpool Café in Cullen.
Lord Lieutenant of Banffshire Andrew Simpson hailed communities and people for coming together to support each other as the pandemic continues to have a devastating impact across the whole country.
Mr Simpson said: "We have all been impressed by the way so many groups and individuals have come together to deliver support to their communities, especially to those who have been vulnerable or isolating.
"Public organisations such as the NHS, police and Moray Council have worked tirelessly on behalf of the people of Moray throughout.
"We would also like to thank the supermarkets, retailers and pharmacists who have been under great pressure from the start of the lockdown and have given exceptional service.'
While the Lord Lieutenant for Moray, Major General Seymour Monro, added: "We will almost certainly be having a second round of these Letters of Commendation in the middle of next year.
"On behalf of our communities, we give our sincere congratulations and thanks to all those who are receiving these commendations".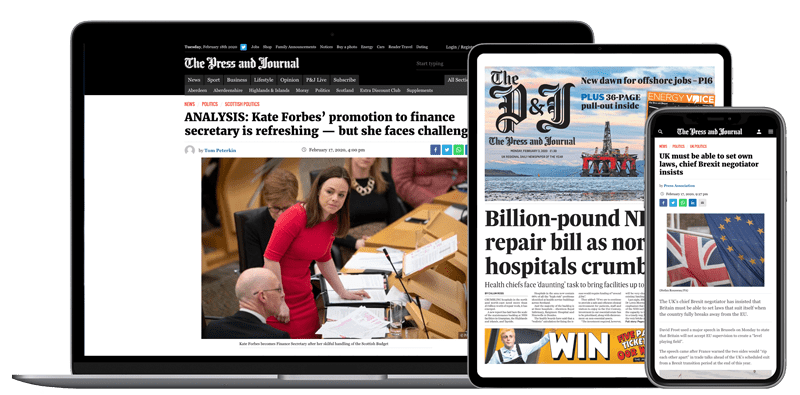 Help support quality local journalism … become a digital subscriber to The Press and Journal
For as little as £5.99 a month you can access all of our content, including Premium articles.
Subscribe