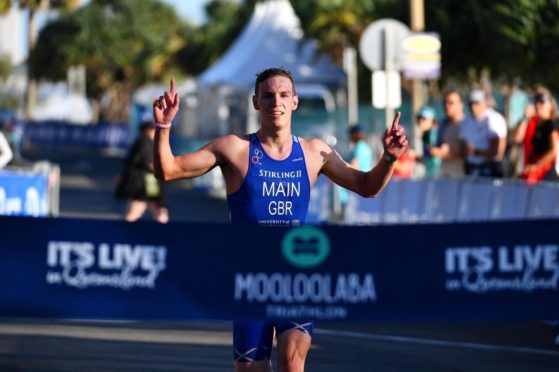 An Elgin triathlete is spearheading a fundraising fitness challenge this month to honour his late sister's 18th birthday.
Cameron Main, 20 wants people to join him in reaching 238,855 miles for the Miles to the Moon challenge through any distance-related exercise to raise money for Abbie's Sparkle Foundation.
The charity was created by his sister Abbie, who succumbed to sarcoma, a rare form of cancer on Christmas Day in 2017, aged just 15.
Now Cameron wants to honour what would have been Abbie's 18th birthday on October 15 through this ambitious challenge.
In three years, Abbie's Sparkle Foundation has raised almost £300,000 and helped around 400 children.
Last year the charity was able to open its own holiday lodge in Aviemore which children living with cancer and their families are free to use.
Mr Main said: "We want as many people involved in the challenge as possible for Abbie, but it's also about raising awareness of sarcoma and what we do as a charity.
"The charity has all come from Abbie and the fact that she was able to think of how she could help people.
"The charity has grown so much, visiting the kids in the hospitals and seeing the difference even a small thing like handing over a bag of goodies can have, it makes it all worthwhile and shows how important charity work is.
"I wouldn't want to be doing anything else, especially for Abbie because we're doing what she wanted to do herself."
University of Stirling student Cameron is part of the Triathlon Scotland development squad and a Sport Scotland Institute of Sport athlete.
Like many, he is eagerly awaiting a return to competition after disruptions due to the pandemic as he sets his sights on a Team Scotland place at the 2022 Commonwealth Games.
He added: ""I'm really fit at the moment; I just need to keep my fingers crossed I can get some races under my belt soon.
"I get full support at the Institute including psychology, nutrition and physio.
"It is more difficult to keep training when there isn't that certainty of a specific races to aim for.
"But one of my big long-term goals is Birmingham 2022, that's always in the back of my mind and it keeps me going in training when there's no other races on."
Visit the Miles to the Moon Facebook page for more information.