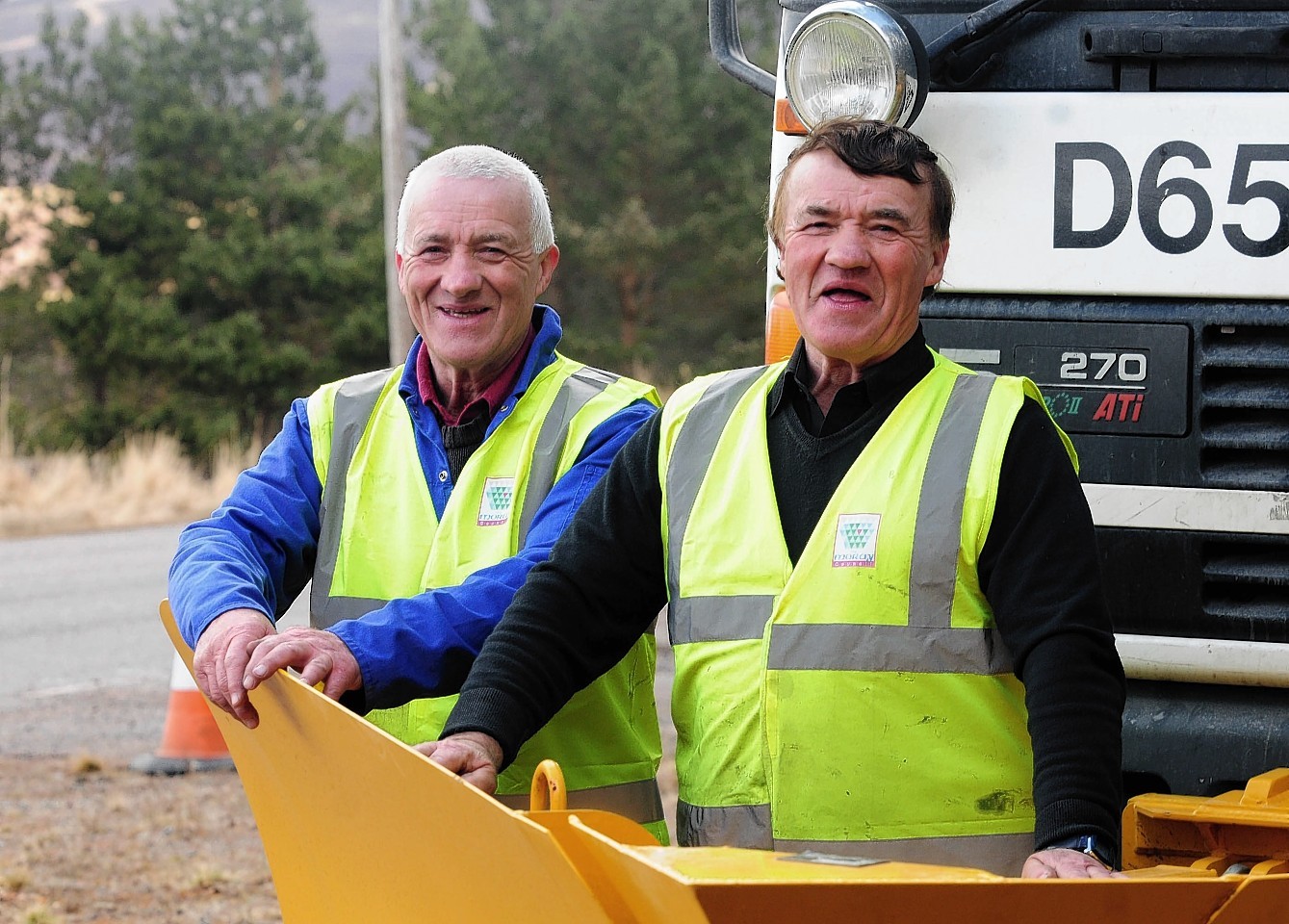 Twins who have dedicated their lives to keeping Moray roads safe have been awarded the same top honour by the Queen.
Billy and John Grant are believed to be the longest-serving council employees anywhere in the UK, clocking up more than 100 years between them.
And today the brothers, who have been resurfacing, gritting and clearing roads together for Moray Council since 1963, have been recognised by the monarch in her birthday honours list.
The pair have been awarded British Empire Medals for their years of dedication – including helping to keep one of the most notoriously snowbound roads open and safe.
Awarding twins the same accolade is extremely rare in the history of the Queen's honours – with only a handful of siblings having been recognised for the same achievements.
For Billy and John, who started work on the same day, passed their driving test at the same time and were awarded long service certificates by Moray Council together last year, it is another shared accolade to add to the list.
Last night, John said he and his brother were thrilled to find out they were being recognised for a job they love to do together.
He said that their secret to lasting so long – they still work together every day – was to not let the little things bother them.
"Sometimes we argue, but we never hold grudges. Half an hour later we will be talking again," said the 68-year-old.
"I'm the oldest by 15 minutes, but Billy has always been the fatherly figure. We probably even each other out."
John, who lives at Glenferness, near Nairn – six miles away from his brother at Grantown – said they had no plans to retire yet.
He said: "More than 50 years sounds like a long time, but for us it has flown by."
He said his daughters – Nicola and Donna – and Billy's son, Billy jun, and daughter, Laura, would be thrilled to hear about their royal recognition.
"It's a huge privilege," he said.
The pair have spent their entire working lives operating out of the remote Dava depot.
After leaving school at 15, they briefly worked on the family farm before their father spotted a newspaper advert for a road worker at the council depot.
He wrote to say he had twins who were interested in the job, and asked if they could they both be employed.
It was not unusual for them to walk up to 15 miles a day, edging the carriageway, sweeping up and keeping the roadside gullies clear.
One of their greatest achievements has been keeping the A940 – which crosses Dava Moor between Forres and Grantown – open when it is badly affected by drifting snow.
Billy was also hailed a hero in winter 1978 when he got a call from the police to say a family was marooned on the moor.
He went out on foot into a blizzard and battled through 5ft drifts to reach their car, which was completely buried.
The family had been stranded for more than 12 hours and a child was suffering from hypothermia.
Billy carried the child to his home while the mother and father and their two other children followed.
He then let the family, who came from the Kingussie area, stay at his home for five days until the road was reopened.