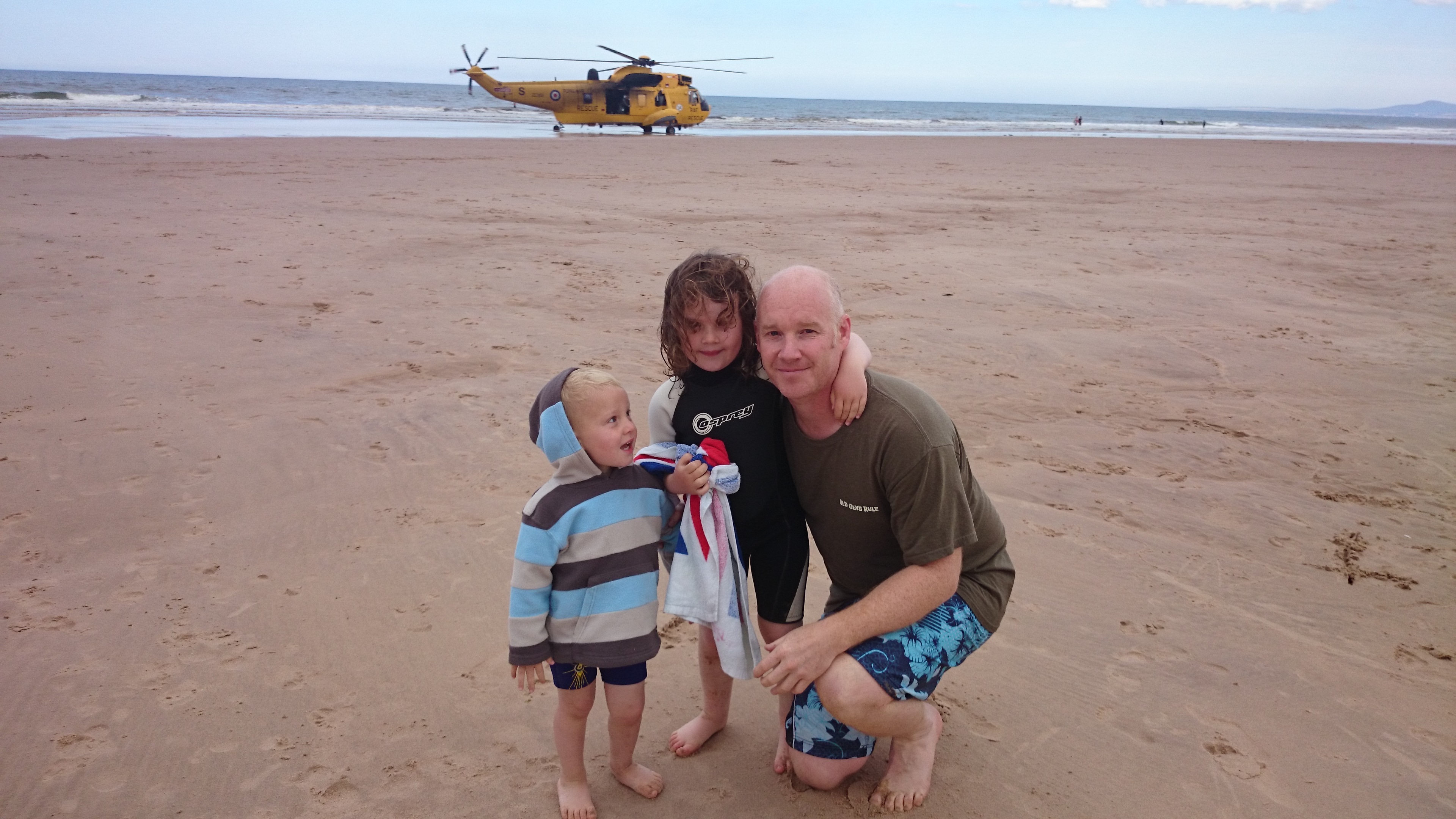 An off-duty search and rescue co-ordinator has described how his professional instincts kicked in when a quiet day by the seaside turned into a life-or-death emergency.
Rich Stinson was enjoying an afternoon at Lossiemouth's east beach with his children when he spied a young girl being swept out to sea.
The quick-thinking father-of-two swam out to rescue the 11-year-old who had been dragged away by a fierce rip tide.
He and the terrified youngster made it back ashore just as an emergency helicopter arrived and she was taken to hospital to be treated for the effects of shock.
Last night, Mr Stinson, a Flight Lieutenant who works as a search and rescue co-ordinator at Kinloss Barracks, told the Press and Journal he was relieved the youngster escaped serious harm.
But he said the drama underlined the need for more warning signs at the popular beauty spot to prevent other day-trippers from getting into danger.
Mr Stinson, who was there with children Chloe, 5, and Charlie, 2, said: "It was a glorious day with blue skies and only small waves.
"It wouldn't have appeared obvious to most parents that the sea might be dangerous.
"However, people who are familiar with the east beach at Lossie know that there can be very strong tides in the area where the river flows into the sea
"I'd class myself as a strong swimmer but I was still surprised just how strong it was.
"There aren't any lifeguards on the beach, so I think more than one sign is needed to warn people."
The only notice warning visitors not to swim near the breakwater is currently at least 300 yards away from the sea next to the famous wooden bridge which crosses the river and leads onto the beach.
Mr Stinson, of Elgin, and his family were just about to leave for home on Friday afternoon when they saw the girl being swept out.
The 43-year-old said: "She was already about 50 metres out and obviously in a lot of trouble. The tide was taking her further and further from the beach.
"Although she was on a body board she kept slipping off.
"A woman in a dress who we later found out was a friend of the little girl's mother was the first in the water, but she wasn't a strong swimmer and couldn't reach her.
"Two young lads in wet suits also jumped in to try to help.
"When I got to the girl she had already well out of her depth and had swallowed a lot of water.
"I managed to get her back far enough to where I could stand up again, but even then the tide made it hard work."
RAF Lossiemouth's rescue-137 helicopter was called to the incident which happened at 5pm, along with coastguard teams from both Lossiemouth and Burghead.
However, in the short space of time it took for them to arrive, Mr Stinson had already got the girl back on land.
He said: "Co-ordinating rescues is my job, but it was a first for me to be actually involved in one.
"However, because of my work I know just how many incidents like this occur around the UK's coastline.
"The coastguard does its best to warn people of the dangers, but I believe that more should be done in the classroom to educate children."
Mike Mulholland of Lossiemouth Community Council agreed another sign was needed.
He said: "There is a sign but some people think it refers to the water under the bridge rather than the sea.
"Getting something else there is definitely we will be looking at as a matter of urgency.
"We need something that people can't miss."
The rescue was the second of its kind off the north-east coast in 48 hours.
Two children were rescued by Fraserburgh lifeboat crew after they were swept out to sea on Wednesday afternoon.
Rescuers said the youngsters were just moments from drowning when the volunteers reached them.
Police issued a warning about the dangers of swimming in the sea.