Youngsters have been caught on camera risking their lives by jumping from 50ft cliffs into the North Sea.
Several adults looked on as the children – all aged under 16 – took turns to plunge off the rocks into the water.
And the community has spoken out saying that the daredevil practice is local tradition.
This week coastguards warned the "tombstoning" craze had already had tragic consequences in other parts of the UK and urged other teenagers not to indulge in copycat antics.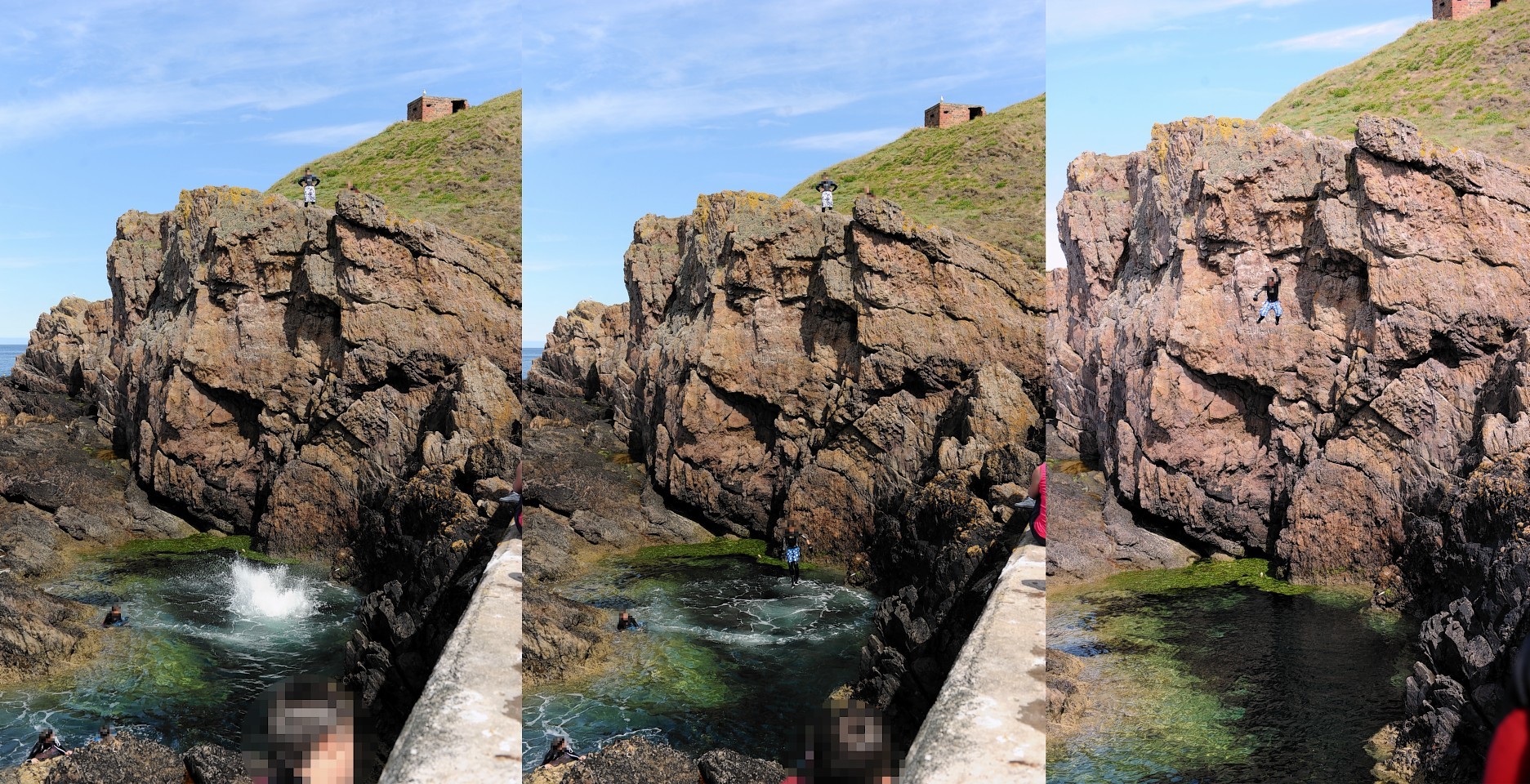 The children were photographed near Portknockie harbour in Moray and the pictures show them plummeting feet-first into a pool at the bottom of a cliff.
A coastguard spokeswoman said yesterday that since 2005 there had been 20 deaths and 76 serious injuries caused by tombstoning in the UK.
She said: "Jumping from piers, cliffs and rocks – or tombstoning as it is also known – is a big concern as it's extremely dangerous.
"Water depth alters with the tide so what was a deep pool at lunchtime might be a shallow puddle by teatime.
"Objects like rocks may not be visible either, and they can cause serious injury if you jump on to them."
Ron Shepherd, who represents the Portknockie area on Moray Council, said: "These kids are putting their lives at risk.
"I can't understand how any adult could just stand there and watch them.
"It's crazy the heights these kids are jumping from. It's so dangerous.
"We used to do it ourselves as youngsters from the pier, which wasn't clever, but never from the rocks.
"Nowadays, the kids are going higher and higher, as though they are addicted to the danger.
"They might be wearing wetsuits but that's not going to save them if they hit a rock on their way down.
"And now that the good summer weather is here there are kids doing this all along the coast.
"It's so difficult to police. All you can really hope is that adults don't encourage them to do it.
"Not so long ago at Findochty there was a stupid craze where youngers would try and jump as close as they could to boats as they were leaving the harbour.
"It was only by good luck that nobody was hurt."
In 2009, a 27-year-old Aberdeen man died after jumping off a 14ft harbour wall at Findochty.
Stuart MacDonald, from the city's Kincorth area, was found floating face down in the water.
He was pulled out by children but died despite the efforts of the emergency services.