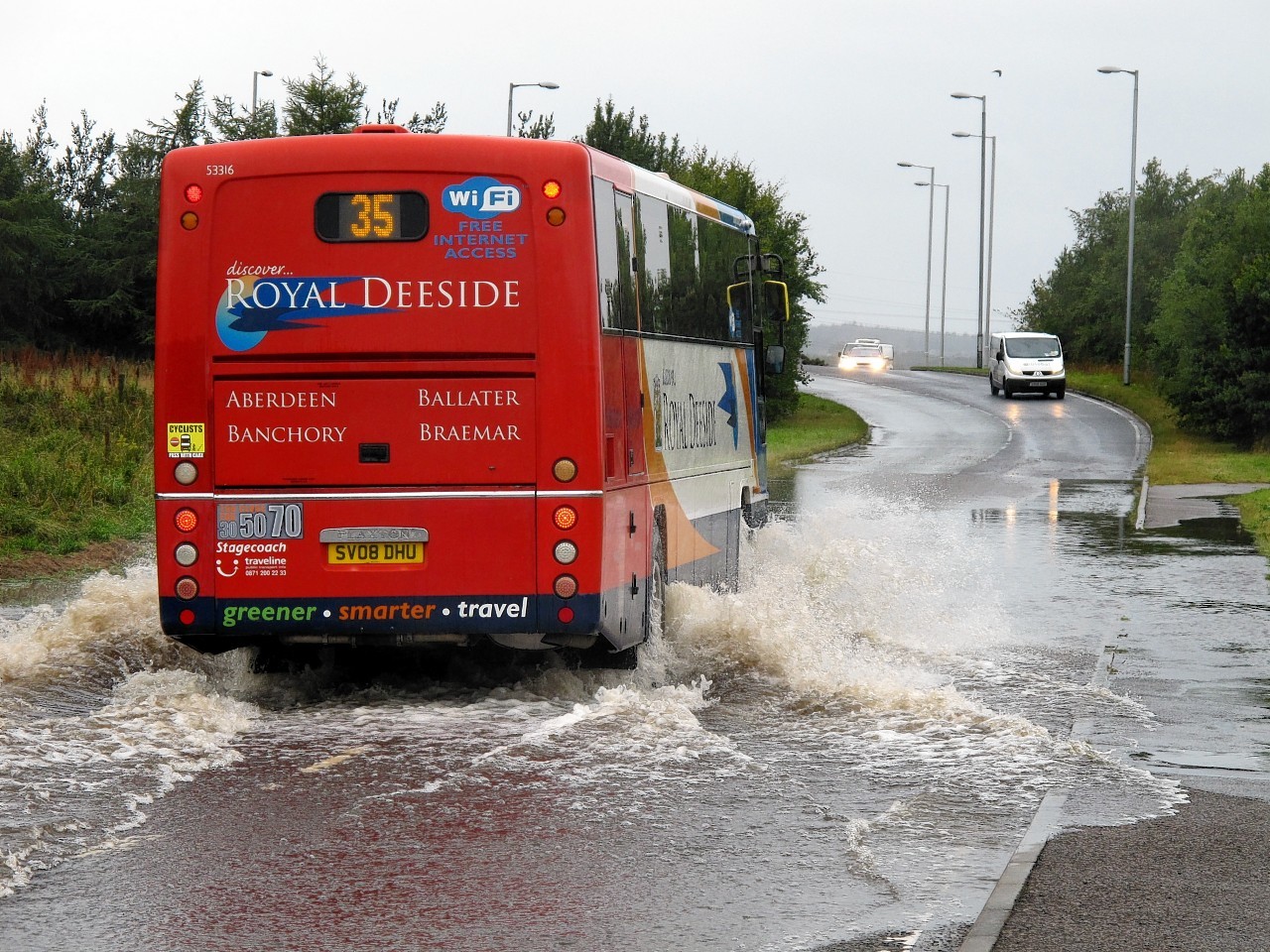 Forres residents flirted with disaster yesterday as the relentless downpour led to a brutal test of the town's recently completed £45million flood alleviation scheme.
A number of families left their homes in response to the Mosset Burn bursting its banks, and Forres Health Centre was one of several local buildings which suffered roof damage.
Dyke and District Community Hall, four miles west of Forres, was opened as a shelter for those whose homes had been affected by water damage in areas including Fleurs Road, Pilmuir, Councillors Walk and Knockomie.
Stewart Noble, the newly-appointed chairman of the town's community council, said last night: "At one stage it looked as though the flood water was going to sweep over the A96, but it seems to have gone down slightly now.
"However, it was a very close-run thing. I've never seen the River Findhorn the way it was. It looked like a brown torrent.
"By and large the anti-flood works around Forres seem to have done their job relatively well – although we're certainly not out of the woods yet. The next few hours are going to be critical.
"There was quite a lot of surface water in the streets around Forres Academy, but I believe most of that was coming back up from the drains."
Former chairman of Forres Community Council, John Bremner, said: "There's a lot of water laying about, but the top end of the burn is okay.
"Below Forres, going toward Findhorn, there is water lying about in fields, but there's not a lot of water on the roads.
"The flood defence scheme is definitely working. The flow of the Mosset Burn is totally restricted now."
Moray MP Angus Robertson said: "The rainfall that has hit Moray in the last 24 hours has been extreme and many are suffering as a result.
"Flooding does so much damage and I know from people affected just how much of a toll it takes on them while they try to recover."
Pearl Paul, SNP group leader on Moray Council, said: "My heart goes out to those affected by flooding in this horrendous weather.
"In my own ward, residents in Dallas have been badly hit and many farmers will have lost crops just before harvest, which will be a big blow.
"Families hit by flooding will need support and help from their communities as well as public bodies like the council, and I know they will do all that they can to help."