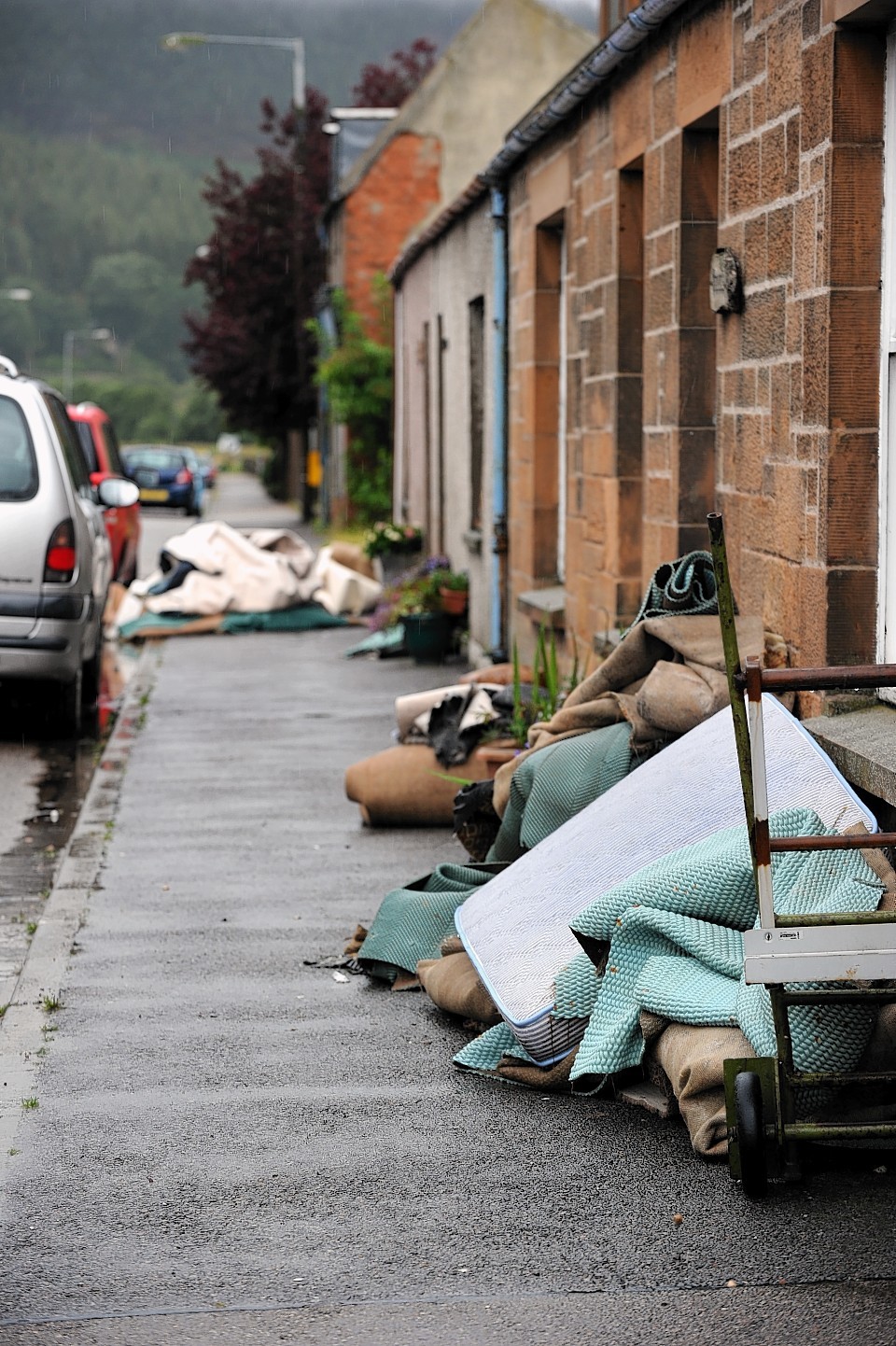 Moray Council has moved to support local flood victims as frustrations build over insurance claims.
The council has made skips, sandbags and dehumidifiers available to people in Dallas and will hold a community meeting in the coming weeks "in the hope that lessons may be learned" from last week's weather disaster.
Charles Gerrie, of Sonas, Dallas, said: "Since Tuesday, the council have been quite attentive, but on Monday — when they were really needed — there was just nobody on the ground at all up here.
"It was the neighbours and folk around about helping each other out.
"But since, they have been up with sandbags and skips."
The sixty eight-year-old currently has a full house after daughter Emma, son-in-law John, and their three young children were evicted by extensive flood damage.
The family face a painful wait to hear their fate following the completion of an insurance investigation, according to Mr Gerrie.
He said: "They're not doing very well.
"There's still no word from the insurance about if the are going to pay for it or not.
"But, the accessor has been, they got dehumidifiers and they have been saving as much as they can themselves.
"They are just sitting waiting patiently to see what happens.
"It's near a nightmare to understand what the insurance companies mean.
"When John took out this policy there was no mention of distance from the river.
"Now they are saying you have to be a quarter-of-a-mile away from a water source.
"I don't think there is a house in Dallas that isn't less than a quarter mile away from the river."
When asked whether the council provided sufficient help, Duncan Garrow, 71, said: "I never saw them.
"They have been up with sandbags but nobody needs them now.
"But, they have been up with four or five skips too.
The Dallas Rifle Club member said the club used the council provisions to clean up, but that insurance was proving a problem for them too.
He said: "It turned out the only thing we didn't have insurance for at the rifle club was flooding.
"The floor tiles we might manage to save, but the underlay is in the skip.
"All the houses in the High Street have used them, and they're full of floors and carpets and the likes."
Hector Hay, 60, of The Cottage, Dallas, said: "A lot of folk have been criticising the council, but they have done the best they can.
"They obviously couldn't get here on Monday but they were out in force on Tuesday.
I can't say that they could have done much more to be honest.
"We had a lot of water in the house, but we've got dehumidifiers and pumps and I think we survived pretty well, but we will probably find out as we go along."
A council spokesman said: "We are making arrangements to meet the residents of Dallas to gather information, listen to their views and hear from them first-hand how events unfolded last Monday in the hope that lessons may be learned which may prove useful in the future."
A representative from the Association of British Insurers was unavailable to comment.