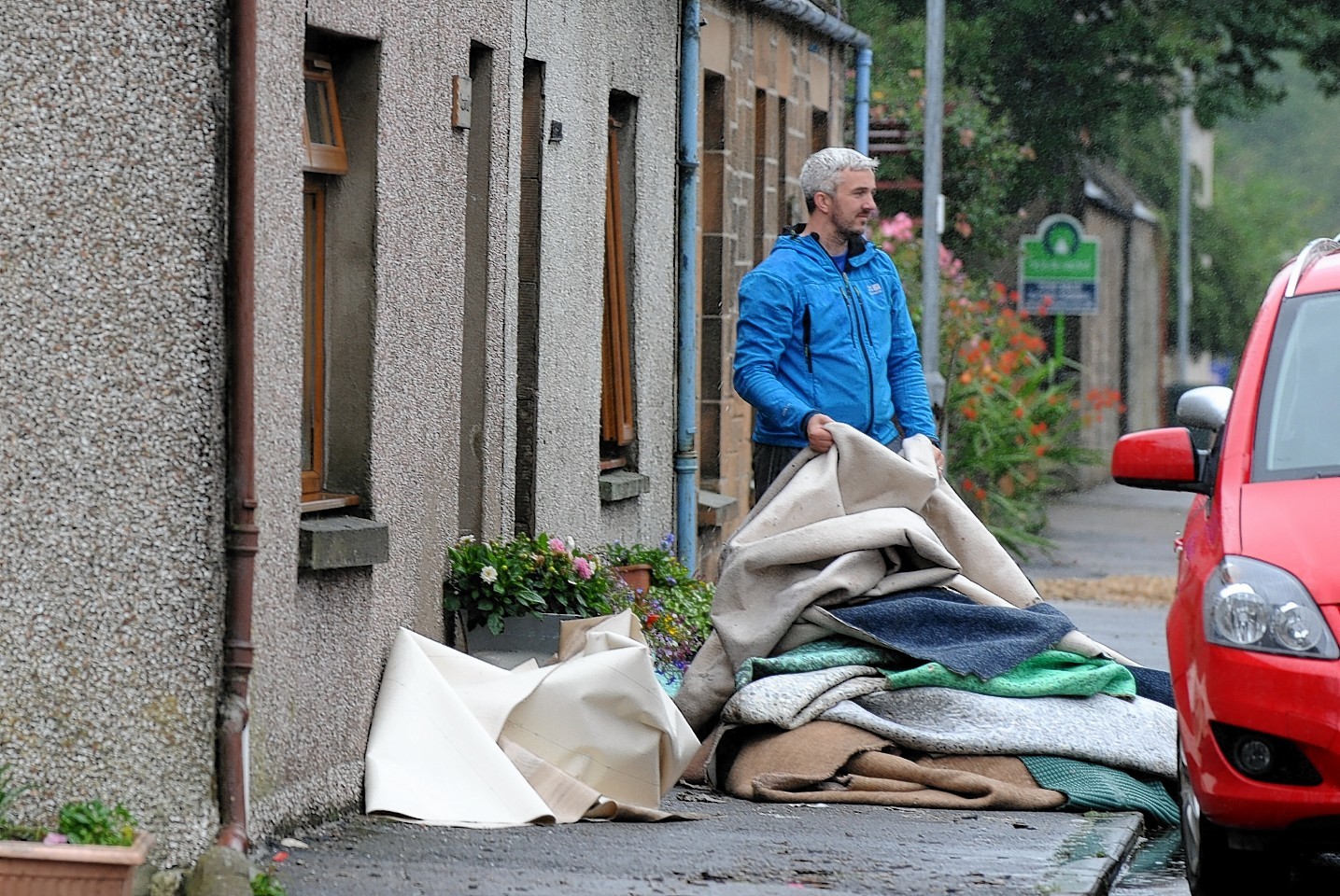 A Moray oilman yesterday spoke of the hardship his family have endured since severe floods swept through his village.
Offshore engineer John Fielding told a consultation meeting in Dallas that two weeks since the floods: "I'm still waiting to hear back from my insurance and I go back offshore to Nigeria on Friday."
Dallas was completely cut off for several hours as water poured down the main street turning it into a river.
Families were forced to flee their homes as they were swamped when the River Lossie topped its banks.
The event in Dallas yesterday was aimed at giving advice in the aftermath of the floods. It was attended by representatives from the Scottish Flood Forum and the Scottish Environment Protection Agency as well as members from Moray Council's flood risk management team.
They heard Mr Fielding say the level of water in his kitchen was a foot deep.
As well as damaging the interior of the recently decorated family home the water ripped the doors away from the family's garage and swept away their children's outdoor toys.
He said: "We're staying with my mum and dad just now.
"Everywhere was affected by water in the garage, kitchen, hallway, and the living room. The garage is still full of ruined stuff.
"Our priority was to get the kids out safely – we have three children, a six year old, three year old and a five and a half month old."
Speaking afterwards Mr Fielding said: "I didn't see the event that helpful towards the community I think it was more an information gathering event for the council."
Janet Miles, 71, described her self and her husband as one of the 'lucky' ones, she said: "We were extremely lucky the water didn't come into the house it came up to the door and went underneath the house.
"Without the prompt action of my husband I think it could have been a lot worse.
"He blocked all the vents in an attempt to stop it.
"What concerns us most is the effect that it is going to have on property prices and insurance premiums."
Mrs Miles, who lives in Dallas, added: "I think we will have to wait and see the outcome of today. There was a lot of things said but the proof is in the pudding.
"The man from the flood forum told us we would have to pay for the flood gates but we could try and get some funding from the council."
Rev Donald Prentice, from St Leonard's Church in Forres who's parish covers Dallas, said: "I would suggest a series of hydro dams might offset the cost of energy balance and could be a viable long term strategy to prevent a repeat of the floods.
"From the Kellas road there was a river coming off the fields.
"Some places were so deep it was totally inaccessible.
"There is vulnerable elderly people in this area and people with young children but the whole community pulled together and rallied round to help each other."
Scottish Flood Forum director Paul Hendy said: "We hold a surgery in this hall every Monday – Friday from 4pm – 7pm to provide leaflets and information and we will remain until people no longer need us.
"It's a long process dealing with the aftermath of flooding and we want to ensure support and advice is at hand."
Debbie Halliday, senior engineer at Moray Council, said: "We had asked people to come along to the consultation with any information they have. It is important for us that we go away and get it right.
"We responded quickly to the flood and there was less widespread damage than in 2009."
She added that the flood alleviation work was too far away to have had any impact on Dallas.